COVID-19 Webinar: Communication Tools from TRSA, Leading Experts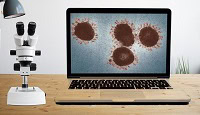 TRSA's latest webinar, titled "Coronavirus/COVID-19: Communication Tools for Your Customers, Employees and Leadership Teams," featured a panel of experts to tackle many questions and concerns that members of the linen, uniform and facility services industry have had about this rapidly evolving global pandemic.
The March 11 live broadcast kicked off with a detailed explanation of the situation from Dr. Murray Cohen, a retired U.S. Centers for Disease Control (CDC) and World Health Organization (WHO) epidemiologist and the current chairman of the Frontline Healthcare Workers Safety Foundation. Other panelists, including Catalina Dongo, director of human resources at UniFirst Corp., Wilmington, MA; Todd Logsdon, partner, Fisher & Phillips LLP, Louisville, KY; and Joseph Ricci, president and CEO, TRSA, provided information from a human resources, labor law, and association/industry perspective during the hour-long webinar. Kevin Schwalb, vice president of government relations at TRSA, served as the webinar's moderator and handled a number of thought-provoking questions from attendees to close the presentation.
On Jan. 30, the WHO declared the coronavirus a global health emergency. The situation escalated on March 11 when the organization declared COVID-19 a pandemic. With the number of COVID-19 infections and casualties growing by the day, you need to identify how this pandemic could affect your linen, uniform and facility services operation. While the situation is rapidly evolving and some questions have yet to be answered, the webinar aimed to provide current information to help you navigate decision making with your employees, customers and business in mind.
Cohen started the webinar with a detailed explanation of what exactly the virus is, how it is spread and the difference between an influenza epidemic and a pandemic. After Cohen wrapped up, Dongo contributed to the webinar with tips on how to best communicate with your employees. She suggested stressing to staff the importance of proper hygiene practices both at work and at home, using only reliable sources for information and updates on the virus such as the CDC and WHO, using proper personal protective equipment (PPE) when necessary, updating attendance and leave policies in light of the virus and potential quarantines, and implementing possible travel restrictions for employees and executives.
TRSA has seen communications from labor unions to its members in the linen, uniform and facility services industry. With that in mind, Logsdon explained how to take the necessary precautions to protect employees and your business during the outbreak, while still adhering to labor laws set by the U.S. Occupational Safety & Health Administration (OSHA) and other regulatory bodies.
Ricci closed the webinar with an overview of the guidance documents TRSA put together for members of the linen, uniform and facility services industry. These documents can be accessed online at www.trsa.org/covid19. A lengthy question-and-answer session from webinar attendees followed Ricci's presentation.
If you missed the live broadcast of this webinar, TRSA will run a recorded version of it several times over the coming week. Rebroadcasts are slated for March 13, March 17 and March 20. For more information and to register, visit www.trsa.org/calendar.
Member feedback for the webinar was positive. Comments included:
"I attended the webinar and joined in with another person from our office. The webinar was simply awesome. Great job of informing and not scaring members. The was the best TRSA webinar we have attended."
"The coronavirus webinar was very well done. TRSA did a great job."
Additionally, TRSA has an on-demand learning library that will allow you to "live stream" all of the association's webinars, including this latest edition. TRSA members can purchase webinars, and other training and educational resources at a reduced member price. Visit www.trsa.org/ondemand to go to TRSA's On-Demand Learning portal to view this webinar and more.