COVID Impact Still Felt in Latest Uniform & Linen Rental Survey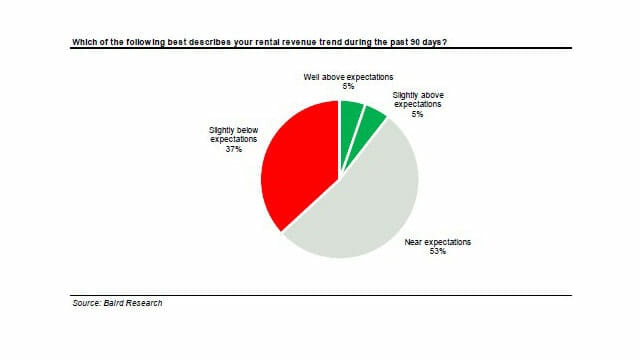 Robert W. Baird & Co. and TRSA recently published the results of its March 2021 (First-Quarter 2021) Uniform & Linen Rental Survey. The impact of the COVID-19 pandemic was still noticeable in several key measures.
Key uniform rental survey findings include:
Rental Revenue Trends: 37% of respondents fell short of internal revenue projections for the quarter, better than last quarter's 62%, but still a high number historically. Only 11% of respondents saw trends above expectations.
Add/Stops: Employment-driven expansion at existing accounts (i.e., Add/Stop Diffusion Index) improved to 60 in March, rebounding to positive/expansionary territory (>50) for the first time in a year.
No-Programmers: Rebound from Fourth-Quarter 2020 with the diffusion index returning to positive/expansionary territory at 57.5, its highest post-COVID read. Importantly, this metric has only been negative three times in the past 10 years (twice in 2020).
Growth Outlook: Industry consensus now sees nearly 2.4% organic growth over the next 12 months, down from the roughly 3% of recent quarters and well below the nearly 5% range pre-COVID.
Key linen rental survey findings include the following:
Rental Revenue Trends: 46% of respondents cited rental revenue trends falling below expectations in First-Quarter 2021 with 46% also citing revenue near expectations and 8% above expectations. Still an elevated number of shortfalls.
No-Programmers: No-programmer interest showed quarter-over-quarter improvement and is now neutral at a 50 reading, compared to 38.2 last quarter. Like uniform rental, this index has consistently been in expansionary (>50) territory, with the exception of COVID.
Growth Outlook: Forecasted 12-month revenue outlook improved to +2.8%, now similar to expected gains in uniform rental, but below previous years' forecasts of nearly 5%.
If you have questions or would like to participate in the survey, contact Baird's Andrew Wittman at awittmann@rwbaird.com or Justin Hauke at jhauke@rwbaird.com.