Croatti Gets TRSA Lifetime Achievement Award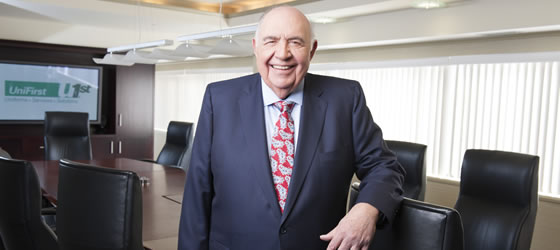 Ronald D. Croatti, the former chairman, president and CEO of UniFirst Corp., will receive TRSA's 2017 Operator Lifetime Achievement Award at the upcoming Annual Conference in Miami on Sept. 12-14. The award, which recognizes exceptional personal service to both the linen, uniform and facility services industry and TRSA, is the highest honor bestowed upon an industry professional.
Croatti, 74, Londonderry, NH, passed away on May 23 following an illness. He will forever be remembered as a visionary business leader who helped shape the uniform and facility services industry into what it is today. Ron joined UniFirst in 1965 under the tutelage of his father and company founder, Aldo Croatti. Ron gained valuable, first-hand experience working in virtually all areas of the company. He excelled in service, sales, operations and management before being named senior executive in 1986. At that time, annual revenues were approximately $100 million. Since he became the company's CEO in 1991, UniFirst more than quintupled its annual revenues to $1.5 billion today.
Ron and UniFirst also were regularly recognized in the media over the years. Ron was named Executive of the Year by the Best in Biz Awards and was featured in 2011 on CBS-TV's hit reality show "Undercover Boss." Other honors include:
Forbes magazine ranked UniFirst on its "Platinum 400-Best Companies in America" list.
For nine consecutive years, Apparel magazine named UniFirst as one of "America's Top 50 Apparel Companies."
Every year since 2003, Selling Power magazine included UniFirst on its "Top 50 Best Companies to Sell For."
For the past 28 years, The Boston Globe recognized UniFirst annually on its "Globe 100" list.

Ron was long active in TRSA and UTSA, which was blended into TRSA in 2008. Among other volunteer work he did for the latter association, Ron formerly chaired the UTSA Marketing Committee and served on the UTSA Board of Directors from 1997-2000.
TRSA President & CEO Joseph Ricci recalled Ron as a proactive executive who was in his element in any industry setting. "Ron lived and breathed UniFirst and the uniform rental industry," Ricci said. "He was always ready to roll up his sleeves and get to work, whether on the laundry floor, on a route, in a board or committee. He looked more comfortable among his co-workers on 'Undercover Boss' than in a suit."
Past recipients of the TRSA Operator Lifetime Achievement Award include the following:
Steve Bryant, Wildman Uniform & Linen, Warsaw, IN
Roger Cocivera, Penn Healthcare, Allentown, PA
Tommy Coyne, Coyne Textile Services, Syracuse, NY
Patrick Dempsey, Dempsey Uniform & Linen, Jessup, PA
Steve Fellman, GKG Law PC, Washington, DC
Tom Hammer, Shasta Linen Supply Inc., Sacramento, CA*
Jerry Ostrow, CleanCare, Pittsburgh, PA*
Michael Potack, Unitex Textile Rental Services, Mount Vernon, NY
Richard Senior, Morgan Services, Chicago, IL
Jack Spence, Faultless Laundry Co., Kansas City, MO*
Larry Steiner, AmeriPride Services, Minnetonka, MN*
Max Stettner, Penn Linen & Uniform, Allentown, PA*
Donald Struminger, Mohenis Services Inc., Petersburg, VA

The award will be presented at TRSA's Annual Awards Dinner on Sept. 13 in conjunction with the TRSA Annual Conference at the Loews Miami Beach In addition to the presentation of the TRSA Operator Lifetime Achievement Award, the following awards will be given away at the conference ceremony:
Maglin/Biggie TRSA Associate Lifetime Achievement Award:Similar to the TRSA Lifetime Achievement Award for operators, candidates for this highest associate honor will have served TRSA in ways that have improved the association and industry.
50+ Years of Industry Service
Above and Beyond:Given to a company that sets a higher standard for others to follow in an industry where first-rate customer service is a must for success.
Clean Green Innovation Award:Awarded to a company that takes novel approaches to increase sustainability, conserve natural resources and reduce their operations' overall environmental impact.
Company Community Service: For a company that exhibits generosity with time and talents, and an exemplary sense of caring and responsibility for others in the community.
Creative Certification Promotion Award:Given to a business that highlighted company/plant certifications to customers, prospects and others.
Fleet Promotion Award:Strong use of vehicles to promote company and services, as well as the contributions of the industry to improving image, safety, cleanliness and sustainability.
SafeTRSA Safety Excellence Award:Implemented a novel approach to improving safety.
TRSA Diversity Recognition Award: Encouraged and facilitated increased diversity, tackling big issues and making our industry better every day.

For more information on TRSA awards, visit www.trsa.org/awards. To register for TRSA's Annual Conference, visit www.trsa.org/annualconference.
*deceased