Customer- and Community-Centered Companies, Staff Win TRSA Honors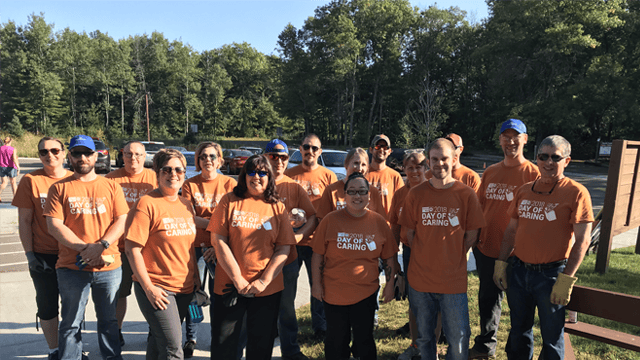 TRSA has recognized nine individuals and seven operator and supplier partner member companies for exemplary work efforts on behalf of their employees, customers and the public. Those honored are recipients of the association's 2023 Above & Beyond Service and Company Community Service awards, to be presented on March 22 at the 13th Annual Legislative Conference in Washington, DC.
Company Community Service award-winning linen, uniform and facility services member operators:
Cintas Corp. Nominated by Matthew 25: Ministries, an international humanitarian aid and disaster relief organization. Over the past 25 years, for aid in the U.S. and around the world, Cintas has worked with Matthew 25 to donate more than 20-million pounds of clothing, fabric, linens, soap, medicine, first-aid supplies, household items, personal-care items, food, school and medical supplies, and building materials products.
Ecotex Healthcare Linen Service. Since 2008, Ecotex has helped Run for Water raise more than $200,000 for well projects in central Africa. In addition to direct sponsorship of Run for Water's community fundraising events, 5K runs, marathons and cycling events, Ecotex provides matching donation programs for employees.
UniFirst Corp. Nominated by One Mission, the Massachusetts organization that makes life brighter for kids fighting cancer. Since 2016, the company has supported One Mission's annual Buzz Off, where participants raise money and shave their heads to show kids with cancer they're not alone. One Mission was also a beneficiary of the Ronald Croatti Memorial Golf Tournament, which raised $25,000 for a variety of causes.
Supplier-partner members receiving the community service honor include:
Penn Emblem. Celebrating its 75th year with a community event, Penn shared the limelight with local causes. Philly Rescue Angels brought adoptable puppies. Penn raised more than $1,000 on-site with raffles for the organization and collected supplies needed to place rescued dogs in foster homes until they are adopted. Philadelphia Youth Basketball, an organization that leverages basketball to help today's urban youth, exhibited at the event, garnering exposure and interest from guests.
Standard Textile Co. Inc. partners with nonprofit organizations across the United States that provide mobile shower services to people experiencing homelessness or insufficient housing. The company has donated thousands of bath towels, wash cloths, shower curtains and blankets to organizations offering shower services supporting an estimated 80,200-plus showers annually.
Supplier-partner member companies winning the Above & Beyond Service award:
LinenMaster. Nominated by representatives of seven member operator companies, LinenMaster was hailed for a business model that provides continual support and online training for employees and customers. The supplier was credited for follow up and steady pursuit of customers to offer them training or assistance.
Foltex USA. Nominators praised the company for equipment and service quality; when parts are ordered, staff is said to always be polite on the phone and ask how the machine is performing.
Individuals from member operator companies singled out for Above & Beyond service include:
Drew Skolar, ImageFIRST. A customer advocate in Clifton, NJ, Skolar is respected for exceeding KPIs, achieving high NPS survey scores and customer retention. He's maintained a 100% satisfaction score for the last four years with the company's largest New Jersey customer.
Steve Marsh, Wildman Business Group. An account service representative at Wildman for nearly 23 years, he's had nearly 0% lost business for the last three years while running one of the company's largest routes.
Tim West, Sparkle Uniform & Linen Service. He's also been with his company for 23 years, starting as a service supervisor and now VP. His colleagues recognize him as never too high up on the ladder to get down in the trenches.
Supplier-partner member company staff recognized as going Above and Beyond:
Mark Brim, Brim Laundry Machinery. The company owner had a nightmare weekend installation in Georgia when a truck with two dryers got stuck in the mud in rural Alabama and no tow trucks were available. He drove 150 miles on back roads in the middle of the night to meet the driver in Alabama, finally secured a tow after 12 hours there and then drove back to Georgia. The dryers were two days late, but were up and running Monday morning.
Darleen Capen, LinenMaster. Nominated by Joel Middleton, Handcraft Services, "She listens to our feedback and really tries to grasp the spirit and purpose behind each request. As a result, she delivers outcomes that consistently exceed our expectations."
Nicolas Legault, Gurtler Industries. Based in Montreal, he manages the Canadian sales team and personally services one of Gurtler's largest sales territories. His customer ratings in 2022 were a consistent five out of five, thanks to his quality of service, response time for problem solving and technical support.
Brian Madonia, Ecolab Textile Care. A territory manager in the Las Vegas market, in the past year he maintained his current accounts while adding three major new accounts, including 12 tunnels.
Chris Northcutt, Foltex USA. In 2022, he was the first technician in his company to complete not only the first in-field modification to a machine based on customer requests, but he completed this modification on three machines in two days and worked all day and night to get it done.
Chris Williams, Foltex USA. Nominated by Kyle Jessick, Dempsey Uniform & Linen, "Chris answers every phone call, no matter the time of day, always with a solution. Top-notch service and plenty of knowledge to boot!"
In addition to the Above and Beyond and Company Community Service honors, the March 22 dinner at the 13th Annual TRSA Legislative Conference will feature the presentation of awards for sustainability, safety, diversity, video, best plant and more. Register here for the March 22-23 conference.