Customer Service, Safety Awards on Tap at Legislative Conf.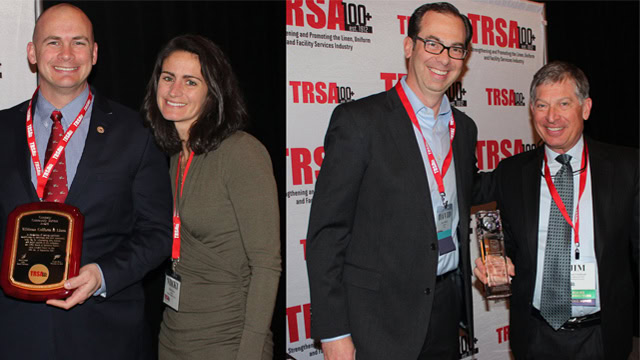 Highlighting rare acts of exceptional internal and external customer service and saluting exemplary efforts to achieve workplace safety are on the agenda for TRSA's Legislative Conference March 30 in Washington, DC, when TRSA Industry Awards will be presented for outstanding performance in these disciplines.
Ten individuals and companies are 2022 winners of the Above and Beyond Service Award, which often recognizes one-time efforts outside the normal course of business to address a customer emergency or pressing need. More often, such acts are part of the normal course, but are especially responsive, empathetic or pleasantly surprising to customers, setting a higher standard for others to follow.
Operator member winners of this accolade are the executive team of Halifax Linen Service, Roanoke Rapids, NC; and Scot Marsh, Max I. Walker Uniform Rental, Omaha, NE.
Supplier-partner member winners are Mace Lenhart, Medline Textiles, Northfield, IL; Jim Stiles, Lavatec Laundry Technology, Huntsville, AL; Rick Woods, Gurtler Industries, Independence, MO; and Mark Simoneau and Arnaud Henraud of Foltex USA, Columbia, SC. Foltex also was recognized in this category as a company, as was LinenMaster, Vero Beach, FL; and UNX Industries, Greenville, NC.
The SafeTRSA Safety Excellence Award recognizes a company or facility that manifests its embrace of safety as a true corporate value. Award-winning entries are typically projects or achievements that produce or reflect safety gains due to support from top management, employee involvement, training or good communication. Nominations document success through proven results. Solutions to specific prevention/protection challenges as well as comprehensive efforts to embed safety in corporate culture are strong candidates for recognition.
Individuals singled out for recognition in 2022 are Jay Addis, Alsco Inc., Salt Lake City; and Hector Durand, Prudential Overall Supply, Irvine, CA. Honored operations are HandCraft Services, Richmond, VA; Logan's Uniform Services, Shelbyville, KY; PureStar Group, Las Vegas; Superior Linen Service, Springdale, AR; and UniFirst Corp., Owensboro, KY.
TRSA Industry Awards will be presented at a dinner at the Legislative Conference, March 30-31, at the Westin Alexandria Old Town in Alexandria, VA. In addition to the aforementioned honors, also to be acknowledged at the dinner will be winners of the Clean Green Sustainability, Community Service and Diversity Recognition honors (previously announced) and Best Plant and Video awards (to be announced in the weeks to come).
The conference enables members to make their voices heard and educate legislators with insightful stories regarding the industry's cleanliness, sustainability and safety records and impact on jobs and local economies. Members will highlight the industry's role in mitigating COVID-19 and the importance of designating linen, uniform and facility services as essential.
For member supplier partners, the event begins March 29 with a two-hour workshop on developing skills for having difficult conversations with your customers around an array of issues, using examples from the industry. Legislator meetings are March 31.
On the afternoon of the March 30 awards dinner, members are welcome to attend TRSA committee meetings, maximizing your membership value by prompting TRSA to act on the operational and management issues that benefit you most. These will take place in a pair of two-hour blocks: five different committees from noon to 2 p.m. and five others from 2 to 4 p.m.
Also before the dinner (which starts with a 5:45 p.m. reception): keynote speaker Reid Wilson, national correspondent for The Hill newspaper, frequently seen on CNN, MSNBC, C-SPAN and other national outlets; and a Hill Day issue briefing. Visit www.trsa.org/legcon to sign up today and receive your early-bird registration and hotel discounts to the conference.