DC Dystopia: Conference Keynoter Calls for Bold Reforms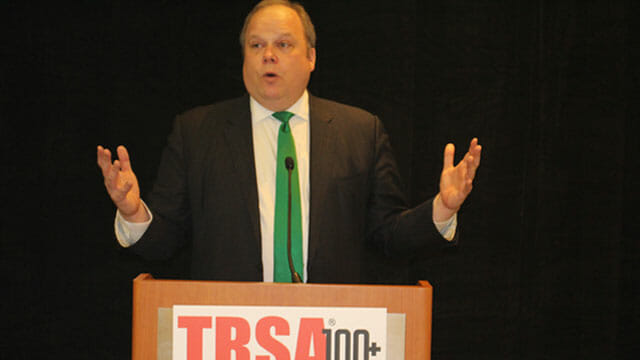 What's right with Washington, DC? Not a whole lot, according to political pundit Chris Stirewalt, a former Fox News analyst who says he was dismissed from his job after last year's election amid a partisan uproar when he called Arizona on election night for then-presidential candidate Joseph Biden.
"I want to talk to you about the media landscape and what's going on there. I have a very fresh experience with that having been so good at my job at Fox News that I got fired," quipped Stirewalt, who has since exchanged life as a TV "talking head" to writing for The Dispatch, a paid online news outlet that describes itself as offering, "fact-based reporting and commentary on politics – informed by conservative principles."
Stirewalt gave an entertaining, wide-ranging address on U.S. politics and media. He often was critical, but at times was upbeat and occasionally heartrending in his review of the national political scene. He spoke during a March 24 keynote address to an in-person and online audience of TRSA members at the association's 11th Annual Legislative Conference & Industry Awards Dinner. The talk took place at the Westin Old Town Alexandria, just outside the nation's capital. Stirewalt's rhetorical targets included the media, especially cable news outlets that issue "narrowcast" news to audiences on both the left and right that hear what they want to hear – though not necessarily the truth.
He cited a tradition of U.S. policymakers working in a system designed to encourage compromise in a constitutional republic dating to the Founding Fathers. He said that tradition of support for change through constitutional processes extended through President Abraham Lincoln as well as civil rights icon Martin Luther King Jr. By contrast, most of today's elected officials in Congress run "fan services" aimed at pleasing the most partisan members of their base, rather than working to unite the country. He blamed the advent of the primary system in the late 1960s as part of the trend that's fed populist challengers and made it increasingly difficult for Democrats and Republicans to set aside partisan differences and work for the good of the nation. He advocated term limits as a way to end the stagnation fueled by long-term incumbency. He suggested a maximum two terms (12 years) for senators and three terms (six years) for members of the House of Representatives.
In describing the election-night drama in Pennsylvania, the fast-talking, wisecracking pundit teared up briefly as he recounted how a volunteer election judge in Pittsburgh endured harsh criticism from political partisans who were disappointed by the election outcome. "We've stripped each other of our humanity in favor of partisan labels and that is a no-good place to be," he said.
In a hopeful note, Stirewalt touted the honest reporting of the Dispatch and predicted the long-term demise of cable news networks that offer 24-hour programming to narrowly focused partisan audiences. As he wrote in a post-election opinion piece for the Los Angeles Times, these viewers are "both overfed and malnourished on empty informational calories." A new age of online "paid media" roughly analogous to the 1960s when even people of modest means paid for a daily newspaper and a weekly newsmagazine, is an emerging trend, he said.
Stirewalt's 90-minute keynote talk, which included extensive questions from the audience, capped the opening day of the conference in which 10 TRSA committees gathered both in person and online to discuss a variety of critical concerns. These ranged from COVID-19 safety measures to hiring challenges, diversity issues, workwear trends and much more.
Following Stirewalt's address, TRSA's Vice President of Government Relations Kevin Schwalb reviewed three key issues that attendees would discuss via online Zoom sessions with Capitol Hill lawmakers the following day. Topics for the conference's virtual "Hill Day," included the need to end home washing of healthcare personnel attire (HPAs) such as scrubs and lab coats; the need for more reusable personal protective equipment (PPE) in healthcare to prevent the kind of shortages that occurred early on in the pandemic and the need for the Federal Emergency Management Agency (FEMA) to make reopening of laundries during a natural disaster a priority so they can supply hospitals, emergency workers and others with the textile goods required to do their jobs. After the lobby prep session, attendees headed for a reception in the hotel corridor followed by a dinner and the program's second headline event: the Industry Awards Dinner.
Sponsors for the Legislative Conference included Alliant Systems, Kannegiesser ETECH, JENSEN USA Inc., Lavatec Laundry Technology and Pellerin Milnor Corp.