Dempsey Celebrates 60th Anniversary in 2019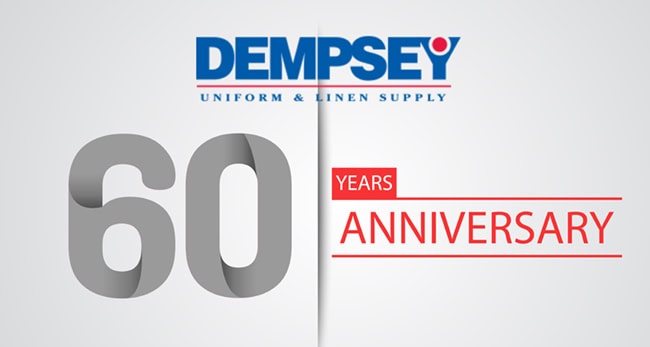 TRSA operator member Dempsey Uniform & Linen Supply Inc., Jessup, PA, is celebrating its 60th year in business this year, and recently took a look back at the milestones that the company has reached in a blog post.
"Can you believe it?" the post started, before moving on to thank its customers. "Dempsey is celebrating our 60th year this year and we are proud and thankful for everything that we have achieved as a family and as a company! Our market and network of clients who have become family and friends to us over the years have all been so delightful and supportive to us and we would not have achieved anything without everyone who stood by us through the highs, lows and obstacles of the last six decades."
The post then looked at how the company has grown in the following areas:
Environmental leadership: the company has earned awards such as the Green Powerhouse Award in 2009 from the Northeast Pennsylvania Business Journal, as well as becoming the first-ever U.S. company to receive Clean Green certification from TRSA in Feb. 2012
Expanding network: the company has been hailed among the fastest-growing businesses in its area of operations, as well as among the best places to work in Pennsylvania
Financial strength: Dempsey has experienced rapid financial growth that testifies to its strength and reliability as a business
Improvement of facilities: Dempsey's state-of-the-art plants allow the company to give service that is convenient, efficient and high quality
To read more, click here.