Disney World Summit Reflects Growing TRSA Participation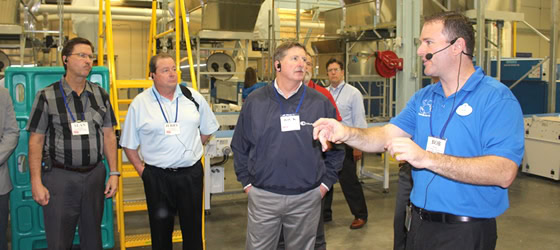 TRSA convened its latest Production Summit and Plant Tours at the Walt Disney World Resort in Orlando, FL, on Feb. 23-24. The two-day summit received a record turnout of 135 participants and featured a full day of education on the first day, followed by a pair of Disney Textile Services plant tours, including Disney's newest laundry, on the second day. The two-day event was sponsored by JENSEN and Ecolab.
The twice-yearly Production Summit and Plant Tours, initiated in 2013, keeps attendees current on emerging industry-wide best practices and fosters expansion and renewal of personal contacts. Ideas to improve plant efficiency are shared in meeting-room discussions and high-efficiency technologies are viewed on the tours. Debriefs following these visits provide additional details on what was observed, prompting participants to recognize how they can execute similar strategies in their businesses.
Most Summits have had around 100 attendees, with the previous session drawing 125 to Pittsburgh in October 2015 for an agenda that included tours of Cintas Corp. and CleanCare facilities. The Disney World agenda included a visit to the resort's costume/specialty laundry plant (uniforms, theatrical outfits, ornate linens) as well as the new housekeeping linen facility, which largely serves value lodging properties, but handles items for every type of hotel such as top sheets.
For the second straight Summit, 100 percent of launderers who responded to TRSA's on-site satisfaction survey regarding the event's overall quality said they would attend future Summits.
In addition to the tour and debrief on the new Disney World linen plant, the Summit agenda featured a panel on its design and development. That session scored a 98 with survey respondents: except for one, all rated it very good to excellent. Panelists explained how various systems, layouts and practices were chosen to support the overall goal of enhancing out-the-door quality. Attendee comments included:
"Lots of great information provided in a clear fashion."
"An incredible amount of planning. The future of building and designing a laundry will involve this kind of operator/vendor teamwork."
"Very interesting to hear about all of the phases from different perspectives."
"Good to see how the process worked; the design, thought and teamwork."
The tours themselves also received sky-high scores, with respondents giving the linen plant visit a 99 (percent very good to excellent), with 91 percent awarding the highest possible rating (excellent) and only one individual labeling it "average." The costume/specialty plant tour earned a 96.
"The Production Summit overall was very good," said Frank Langer, R.W. Martin & Sons Inc. "The location was great and the venue was ideal. All the speakers were good. I very much enjoyed the plant tours. It was great to see a true state-of-the-art facility."
DAY ONE EDUCATION
The Production Summit kicked off with a panel session titled, "Beyond Production Standards" that detailed techniques operators can use to motivate their plant staff to achieve at high levels, beyond simply establishing standards for the production floor. The panel featured Tom Baron, laundry/textile analytical manager, Harbor Linen; Ron Seaman, vice president, Florida Linen Services LLC; and David Wyrick, plant manager, ImageFIRST Healthcare Laundry Specialists—Miami. The panel was moderated by Mike Hall, senior project manager, Turn-Key Industrial Engineering. The panel advised operators to use the following methods to develop a great production team:
Hire a great maintenance team and staff it properly
Train production associates well for speed, quality and accuracy
Crosstrain associates to cover vacations, callouts and turnover
Maintain a rotation schedule to keep associates' skills sharp
Maintain reasonable expectations and hold associates accountable for their performance
Be firm, fair and consistent toward all associates
Appreciate your associates, value them and take care of them
Never stop developing your team

Following the opening panel, Guy Harris, master trainer and coach, The Kevin Eikenberry Group, Indianapolis, closed out the morning with a workshop on workplace conflict resolution. "Here's the big picture," Harris said. "This is the overview of both my mindset and approach to dealing with conflict in this complex world of human behavior, communication principles, negotiation principles, behavior styles and social threats. I'm going to boil it down to the five things I'm thinking about. What I'm thinking about is how I'm going to resolve the business problem, remove the sources of threat from the conversation, focus on the future, talk more about behaviors than perceptions of behaviors, and use clear, assertive communication." Harris encouraged attendees to work in small groups for discussion several times throughout the presentation.
The afternoon featured a pair of breakout sessions. The first topic on root cause analysis was hosted by J.R. Ryan, president & COO, MODRoto; and the second session was preventive maintenance, hosted by Jeff LaPeters, manager, textile engineering services, Walt Disney World Textile Services.
Also taking place on Day One was the panel discussion on the new housekeeping linen plant, the resort's Fourth Laundry Operation (FLO), previewing the tour of this facility the following day. Panelists included Norbert Gittard, vice president of sales & marketing, JENSEN USA Inc.; Clay Lafrenz, territory specialist, Ecolab Textile Care Division; LaPeters; Troy Loutsenhizer, manager, textile services—FLO, Walt Disney World Textile Services; and Chip Malboeuf, president, Turn-Key Industrial Engineering. Production Summit Task Force Co-Chair David Bernstein served as the moderator of the discussion.
LaPeters showed summit attendees unique 3D renderings of the FLO facility during this panel, and Disney Textile Services executives and vendors associated with the project shared their perspectives on how the plant came together from the planning phase to full operating status.
DAY TWO TOURS
The second and final day got underway with a pair of morning plant tours. Attendees saw Disney's newest facility, FLO, as well as its Costuming & Specialty Facility in action. The FLO plant currently operates a pair of JENSEN Senking tunnel washers, with a third on the way. A unique feature of the plant is its remote sheet clipping section powered by JENSEN equipment. Tour attendees got to see this system in action, with sheets flying through the air in the facility. The FLO plant reached its full capacity after four months of operating, at 50 million lbs. per year. The facility is currently in phase two expansion to add capacity (up to 70 million lbs. per year) and equipment within the building's established footprint.
Following the FLO tour, attendees made their way to the Costuming & Specialty facility, which originally opened in 1971 but was converted in 1997 to process Walt Disney World cast member costumes and uniforms. Disney estimates that this facility processes an average of 28,500 costumes per day, which comes out to more than 10 million per year. These garments use RFID chips to move automatically through the plant by way of an automated rail system. Some garments and/or costumes must still be handled manually due to the size and/or delicate nature of the costume.
Following the tours, summit attendees met back at the conference center for a debrief session on the plant tours, featuring the following Disney Textile Services staff: Bob Davis, senior operations manager, Textile Services; Katy Jarboe, operations manager, Textile Services; LaPeters; Mandy Lemmer, engineering services manager, Textile Services; Loutsenhizer; and Tom Mason, engineering services manager, Textile Services. After the Q&A session with the Disney Textile Services executives, the Summit closed with a panel on "Evolving Industry Technologies," moderated by Steve Florence, vice president of sales and service, Starr Textile Services, Foley AL; and featuring Doug DeWitt, business analyst, Computer Software Architects; Bill Dougherty, vice president of business development, Positek RFID LP; Tom Kindy, regional sales director, Chicago Dryer Co.; Philip Little, GLSS manager, Gurtler Industries Inc.; and Domenic Paone, technical service manager, Novozymes North America Inc.