Display Highlights Laundry Role in Food Safety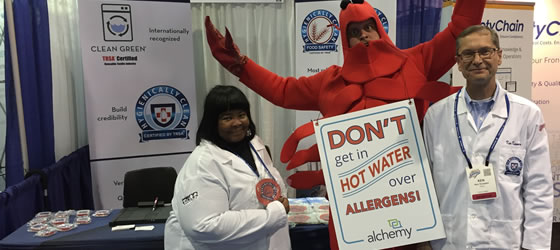 Download Food Safety Transparency paper
The Hygienically Clean Food Safety certification display at the recent Food Safety Summit drew the attention of more than 100 attendees and exhibitors. The display portrayed the laundries that have earned this designation as committed to steadily improving laundered product quality.
Attendees at the summit – the largest U.S. event of its kind for this profession – learned that Hygienically Clean Food Safety-certified plants go beyond obtaining third-party validation of their Hazard Analysis and Critical Control Points plan. HACCP validation is a vital component of the certification, staff explained, but it's only one element of the Hygienically Clean inspectors' determination of whether a laundry deploys industry best practices. In addition, using a Hygienically Clean-approved lab, certified laundries test samples of cleaned items quarterly to ensure that they are free of pathogens in sufficient numbers to cause human illness.
Many visitors to the Hygienically Clean display who regularly work with linen, uniform and facility services providers were pleased to hear about the advent of the Food Safety certification, which premiered in 2014. They inquired about whether their current linen and uniform providers had been certified; if not, they indicated they would discuss the matter with them.
Attendees with these job titles were among the individuals who dedicated exhibit hall time to learn about Hygienically Clean:
Certification Specialist
Compliance Manager
Food Safety Director, Manager
General Manager
HACCP Coordinator, Supervisor
Operations Director, Manager
Owner
Process Improvement Manager
Quality Assurance Director, Manager, VP
Quality Control Supervisor

The Summit, April 9-11 in Rosemont, IL, (near O'Hare Airport) drew a reported 1,700 attendees. Food-safety professionals displayed their usual high level of interest in certification; Summit classes related to various designations were sold out. The Hygienically Clean display distributed Food Safety Transparency across Your Supply Chain, an interactive reference containing hyperlinks to certification resources for food manufacturers and processors. This text urges these businesses to ensure that their suppliers in all industries are certified for their role in ensuring food safety, not just ingredient suppliers. Hygienically Clean laundries were presented as an example of a supplier industry that food manufacturers and processors should hold to the highest standards of safety and cleanliness.