Diversity Now – Q&A with Minority-Owned Metro Laundry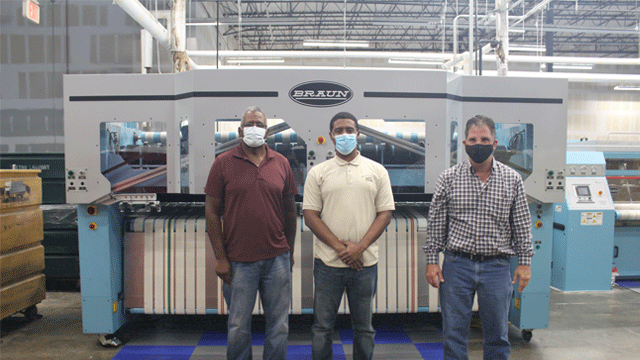 Metro Laundry Service (MLS) provides laundry services for hotels around the "DMV" (i.e., the District of Columbia, Maryland and Virginia) region surrounding the nation's capital city. Founded in 2002 by Bernard Young and now led mainly by his nephew, COO Steven Young, the company has seen significant growth in recent years, but – like hospitality laundries nationwide – it has suffered from COVID-19-driven losses in business and leisure travel. Diversity issues also have had an impact on this company in Capitol Heights, MD. Excerpts of our talk with Steven and Business Development Consultant Richard Burney (both of whom are African-American) follow.
How diverse is Metro Laundry Service?
Young: Our company internally is very diverse, especially our management team. Our management team is made up of African Americans, whites and Hispanics, including females.
 Is there an advantage to having staff diversity?
Young: Yes, definitely. One, you have different lifetime experiences that can provide feedback and input to the company. Having a Hispanic female as part of our management team goes a long way with our staff, especially considering in a laundry environment the core staff is largely Hispanic.
Did that manager come up through the ranks?
Young: She was originally here at MLS 1. However, we had a Hispanic male that was part of management at MLS 2 (a second Metro plant that was closed due to COVID-19-related business losses) that we were able to relocate here at MLS1 as well, as well as an African American that is part of our management team. Also, as far as our relationships with hotels, we have diverse relationships too. Because with most hotels, the housekeeping staff is largely Hispanic, so having a bilingual member of our management team who's able to speak with them and hear from the end user about the linen service that we provide … it helps us internally to improve on the service that we provide because we get that direct feedback from the hotel housekeeping staff.
Are hotels supportive of diversity programs; does the fact that Metro is black owned make a difference?
Young: In some cases, yes. In one example, we have worked closely with the Hilton diversity supplier group. We've been closely connected to their senior manager for their diversity group here. Hilton has worked with us in that regard, marketing our company, securing the accounts and things of that nature. Outside of them, we've worked with PG (Prince George's) County (MD), which is a big part of us becoming service providers for the MGM National Harbor.
We understand that you conduct a lot of plant tours and that prospects frequently ask to see the plant. Why is that?
Burney: We try to get everyone to take a tour of the Metro facility. I will tell you that companies are more likely to tour Metro than other facilities, just to see if they can do the job. (laughs).
Why are prospects more inclined to see Metro?
Burney: Because they don't think a minority-owned firm is necessarily what they represent themselves to be. And so they seek to prove it. It's that simple.
Do the tours help?
Young: Absolutely. We encourage them to come and see our plant. Especially if we're in a bidding process of trying to secure a new account, we'll say 'OK, we can tell you we do this and do that as much as we want. I can talk until my face turns blue. You need to see if for yourself. Go to plants A, B and C, view their operation and then come to ours. Nine times out of 10 you're going to see a stark difference.'"