Doro Elected New TRSA Chair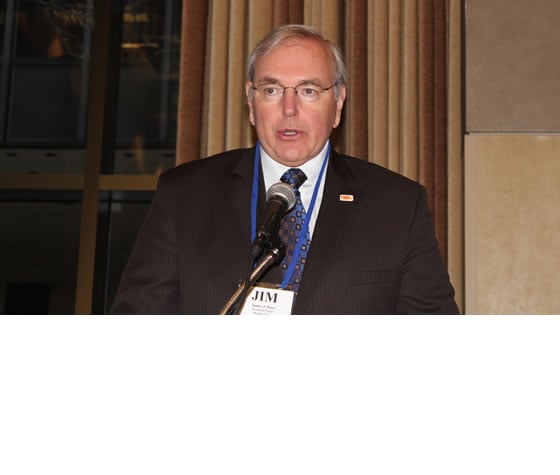 PRESS RELEASE
Local Business Owner Elected Chair of Worldwide Textile Group -11/1/12
Jim Doro was elected the 61st chair of TRSA on Oct. 17 during its 100th Annual Meeting. The election of Doro and David DiFillippo as TRSA's new treasurer, along with the installation of five new or re-elected members of the Board of Directors, served as the closing act of the association's Oct. 14-17 Annual Conference & Exhibits in Chicago.
Outgoing Chair Woody Ostrow brought the meeting to order prior to the voting, during which Doro and each of the other candidates were elected unanimously.
"I'm truly humbled and honored to be asked to serve as the TRSA chair for the next two years," said Doro, president & CEO of Doritex Corp., Alden, NY. "As TRSA chair I will continue to support the fine work that the staff under Woody's leadership have done, especially in the areas of advocacy, education and certification."
Doro represents the third generation of his family business. He entered the industry in 1972 and led the operation's transformation from dry cleaning to uniform rental on his father's recommendation. A chemical engineering graduate of the University of Notre Dame, he earned his MBA from Canisius College (Buffalo, NY). Later he would take fellowships at Harvard Business School and the State University of New York at Buffalo.
He is credited with a lead role in fostering the 2008 blending of TRSA with the Uniform and Textile Services Association (UTSA) as a member of the Board of Directors of the latter organization. He then became a member of the TRSA board to embody the continuity of service that UTSA members expected from their national association.
TRSA's new treasurer, DiFillippo of Boston-based UniFirst Corp., succeeds Michael Potack, Unitex Textile Rental Services, Mount Vernon, NY, for a 2-year term. Before the voting, Potack noted the association's clean audit and robust state of financial health. "I think things are headed in the right direction," he said. "I've served for several years now, and you should be very comfortable that you're contributing to and participating in a very powerful, solvent organization."
New or re-elected members of the Board of Directors to 3-year terms were:
Bob Brill, Republic Master Chefs, Los Angeles
Jim Buik, The Roscoe Co., Chicago
Scott Delin, Superior Uniform Group, Seminole, FL
Jim Kearns, Alsco Inc., Salt Lake City, UT
Michael Schuelke, ARAMARK Uniform Services, Atlanta

Ostrow, president of CleanCare, Pittsburgh, closed the Annual Meeting with thanks and appreciation for the progress the association's made during his term. "I want to say thank you very much for letting me serve the last two years as chair. I'm glad the association continues to move in the right direction."