EMI Commencement: The 'Secret Sauce' is Community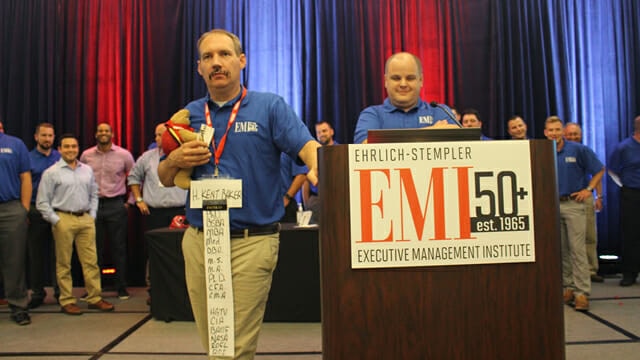 Nearly 100 people, including 80-plus students, as well as instructors, TRSA staff and guests gathered at a University of Maryland banquet hall to mark the 54th commencement program of the Ehrlich-Stempler Executive Management Institute (EMI). The Aug. 9 dinner event was followed by a series of speakers and student-organized skits and jokes. The program reflected an emphasis on the networking opportunities that TRSA's four-year institute creates for its graduates as well as faculty.
"It's been an amazing four years," said Kevin Bazin, a Year IV student from Canadian Linen in Victoria, British Columbia. He spoke on behalf of the 2018 class of 15 graduates. "All these people behind us, friends for life guaranteed," said Bazin, who wore a tie bearing the red maple leaf design of the Canadian flag. "We'll all be staying in contact."
TRSA Vice Chairman Jim Buik, president of The Roscoe Co., Chicago, and a 1984 EMI graduate, elaborated on the theme of community in brief remarks before the graduates received their certificates. Buik noted that before students begin EMI, they often hear about what a privilege it is to participate in the program. Now, they are finding out what that means. "As you progress along in your careers, as leaders in your company and in the industry, your time at EMI will seem even more valuable and relevant," Buik said. "Especially when you reach out to a classmate to discuss a situation about work, your career or even a personal matter … because that's the essence, the 'secret sauce' that makes EMI special."
The educational benefits that EMI brings are also valuable, and individual companies as well as the industry as a whole have great expectations for those who graduate from the program, Buik added. "We're counting on you," he said. "We all have an obligation to our customers, team members' families and communities to plan, execute and continually improve so that future generations can have the same opportunities that we've had. Your participation in EMI is a strong indication that your company is committed to doing just that."
Buik cited three areas where EMI can help students enhance the competitiveness of their companies and the industry as a whole, communications, active leadership (i.e., empowering front-line employees) and continuous improvement. He called on the students, including two attendees from Roscoe, his daughter Julia and Sergio Pena, to continue to "find new ways to raise the bar" in today's hypercompetitive markets.
Longtime EMI Dean Kent Baker thanked Buik for his insightful remarks and added that he's proud to have had the opportunity to teach a second generation of students. "You know time has passed when you teach the father and the daughter," said Baker, who has taught at EMI since 1976 and served as dean since 1981. "I'm waiting for the grandchildren, I haven't quite made that yet.'
Baker also thanked TRSA and especially President and CEO Joseph Ricci for actively supporting EMI and other educational programs. He noted that the program experienced a downturn around the time that UTSA and TRSA merged in 2008. Under Ricci's leadership, beginning in March of 2010, the situation has greatly improved. Today, EMI is as strong as ever. "Joe really turned around EMI when we had the merger, a number of years ago," Baker said, addressing the crowd seated at multiple banquet tables by class in the College Park Marriott Hotel and Conference Center ballroom.  "You could fill up one table at that particular time. Look what we have today."
Baker also took the opportunity to reflect on the legacy of two retired EMI faculty members who died in the last year, but whose influence continues to resonate. One was Dave Martin, a retired U.S. Army general and American University professor who retired from EMI several years ago after many years' service. Baker quipped that Martin so impressed one of his corporate product-liability clients, Ford Motor Co., that they gave him a new car to show their gratitude for his services. "You know you're doing a good job when the client that you're working for gives you a Lincoln Continental as a gift at the end of the trial."
Another faculty member who passed away earlier this year was Les Frankfurt, a psychologist and Holocaust survivor who developed the model for EMI's Year III program, which focuses on having students examine their psychological state and how they interact with colleagues and customers. Joe Currier and Jim Underwood, the two EMI faculty members who taught this year's Year III class, spoke in poignant terms about the impact that Frankfurt had on them and the program. "Everything we do in Year III is with his blessing and knowledge," Currier said, his voice taut with emotion. "You guys are keeping him alive, so thank you."
Underwood added that the main reason Frankfurt survived the Holocaust was the fact that he and a twin brother were used for genetic experiments by the notorious Dr. Josef Mengele in the Auschwitz concentration camp in Nazi-occupied Poland. Given his background, Frankfurt had every reason for anger and vengefulness, but he determined to take a different course. "Through an incredible transformation, he changed himself from a man who had a lot of hate and bitterness to be the most loving person I have ever been blessed to be with," Underwood said. Click here for details on both Frankfurt and Martin.
After Currier and Underwood spoke, the mood shifted from somberness to levity as each of the four classes gave their remarks and offered up a smorgasbord of skits, quips and songs that are part of a long tradition at EMI. The humor was often offered up in "roast" style, with good-natured quips about Baker, and various classes poking fun at each other and themselves. Props included joke videos from movies, throwing "Swedish fish" candies, and lip synching songs like "It's Raining Men." This was done as a gag to note the fact that the Year I class was the first all-male group in some 30 years. The Year II students also rolled out a cart with shots of tequila (discreetly contained in Starbucks paper cups) for each of the Year IV students so they could toast their graduation.
Students handed out gifts to faculty members as well, including wine for the Year III's Currier and Underwood and University of North Carolina gear for Year II instructor Jim Krahnke, who is a graduate (and fan of) the University of North Carolina at Chapel Hill, NC.
The program concluded just before 9 p.m., but the festivities continued long after as attendees shifted to the Conference Center bar. There the students imbibed not only adult beverages, but the secret sauce that is EMI – networking in a community of like-minded laundry industry professionals. To learn more about EMI, click here. Follow-up coverage of TRSA's Production Management Institute's (PMI) commencement program will follow shortly.