EMI, PMI Turnout Reflects Confidence in Workforce Teamwork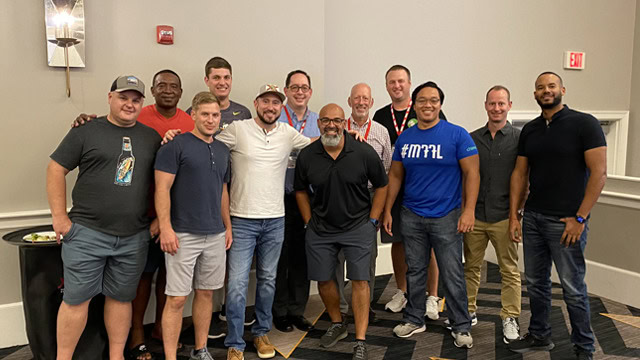 Given COVID-19-induced impacts wreaking havoc on the economy and accordingly posing challenges to the linen, uniform and facility services industry, it might not seem a good time to free upwardly mobile managers from their workplaces for an immersive professional development experience. Suggesting otherwise: participation in TRSA's 2022 TRSA Management Institute programs. Attendance from Aug. 8-12 at the University of Maryland for both the Executive and Professional conclaves improved over 2021, totaling more than 150 participants. And attendees were generally confident any work gaps created by their absence were filled by their colleagues back home.
Several EMI/PMI attendees interviewed by Textile Services Weekly indicated their colleagues, especially staff who directly report to them, were capable of tackling surprise challenges that might arise during their absence. General Managers (GMs) praised their direct reports' competence, noting that these mid-level managers are responsible for most interaction with line employees even when the GM is present. Business stays on track as long as the GM and direct reports aren't out at the same time for too long.
Similarly, production/operations managers, the majority of PMI attendees, reported the same confidence in their production supervisors. One operations manager pointed out that his absence gave newcomers to supervision on his team the opportunity to practice some techniques they may not have tried before, thus contributing to their development as managers.
EMI/PMI attendees in sales and service noted a positive from COVID-19 that made it easier for them to participate. Their companies had dropped some of their least-profitable accounts, thus reducing the workload. Even if this didn't reduce volume significantly, it eliminated some problematic customers who might have posed difficulties for their teams while they were gone.
Email contact with teammates at home was seen as critical, but not disruptive to the EMI/PMI experience. One assistant GM testified to the need to stay in touch frequently given the preponderance of new mid-level managers at his location. A service manager who constantly monitors his location's operation said even he felt confident leaving, knowing that both the GM and production manager were on the job at home. Another attendee noted that Institute participation is not a vacation, which could last longer and decrease responsiveness, including turning off cell phones.
Also reflecting confidence in company teamwork, most commitments to attend weren't made at the last minute, as 60% of PMI attendees registered (committed) by the end of June; 94% for EMI. There were a few 11th hour substitutions for registrants who caught COVID. For some returning attendees, such as those returning in 2022 to complete PMI after attending once previously, about 75% registered by June. Nearly that proportion of EMI Session 4 attendees (who had participated in three prior years) registered in May.
Driving EMI early registration were two national chains – longtime member company devotees to the program: Alsco Uniforms, which uses it as a key facet of its management-development program, and Prudential Overall Supply, recognized for its practice of sending all GMs after they've been in that position for a couple of years or more.