Essential Services Designation: TRSA Needs YOUR Help!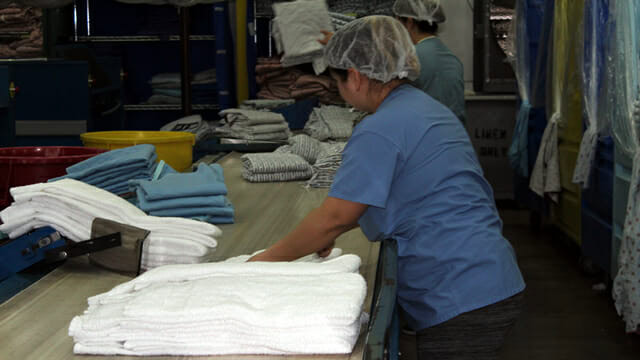 Due to the rapidly changing nature of the Coronavirus COVID-19 pandemic, state officials are taking significant steps to mitigate the spread of the virus. Some of the steps being taken range from governors telling all state residents to stay home unless they work for "essential" industries to requiring businesses to close if they are not considered "life saving." These gubernatorial executive orders are confusing in that there's no consistent guidance on what industries fall under the appropriate categories to stay open.
Several states, including California, Florida, Kentucky and Nevada, have provided guidance specifically recognizing commercial laundries as "essential services" with New York and New Jersey allowing laundry operations to stay open as "necessary to ensure the safety, sanitation and operations of essential services."
While Pennsylvania does not specifically recognize commercial laundries as a "Life-Saving Business," they are covered by the category of Facility Support Services under the larger Professional and Business Services heading. Looking at the NAICS Code for Facilities Support Services, the linen, uniform and facility services industry clearly falls into that category. (NAICS Code 561210 – Facilities Support Services: Establishments in this industry typically provide a combination of services, such as janitorial, maintenance, trash disposal, guard and security, mail routing, reception, laundry, and related services to support operations within facilities.)
We are educating public officials and regulators that TRSA members provide hygienically clean and safe garments to these industries to keep workers safe. These garments, many considered essential Personal Protective Equipment (PPE – flame resistant, high visibility, food service coats, etc.) have characteristics that must be processed in a special way to maintain its integrity. The workers cannot launder these garments themselves and properly maintain the safety aspects. An interruption in hygienically clean and safe garments would put the workers in danger, and in the instance of the food-manufacturing sector, slow food-processing operations, thus creating a food shortage at grocery stores.
TRSA members process 90% of the healthcare linens and garments used by healthcare facilities across the United States. There is a dangerous shortage of disposable hospital products (masks, sheet covers) which is being supplemented by the reusable linen market. Any laundry processing or supply interruptions would make hospitals, elderly care facilities and other healthcare facilities unable to safely treat the public or serve their clients. The linen, uniform and facility services industry's ability to provide hygienically clean and safe products is a needed service provider to ensure the healthcare system is able to safely treat all patients.
Certain specialized facilities across the country provide protective garments and other services to customers in your state in the nuclear power, biotech and pharmaceutical industries. The garments are also considered mission critical to operations of these highly important industries.
In addition, TRSA members provide cleaning chemicals, sanitizers and other core facility service products (mops, wiping products, toilet paper, hand soap, etc.) that are critical for these and other life-sustaining businesses to be able to operate a clean and safe environment. This is more critical now than ever.
If laundry employees can't get to work, the items will not be safe for the user or general public. Workers in many of the industries listed on the Life Sustaining Business list will not be able to safely do their jobs. TRSA is contacting government agencies and working state-by-state for direct guidance and advising members to continue to operate as Facility Support Services where applicable until we gain clarification and guidance to include the Linen and Uniform Supply NAICS Code. These efforts include letters, telephone conversations at various levels, as well as outreach through legislative and media consultants. Click here to view a press release TRSA distributed nationwide.
Call to Action: Thank you for doing your part to keep other Life Sustaining Businesses open, operating and safe. However, we need every member's help generating awareness and educating local, state and federal officials regarding the importance of our services and asking them to specifically designate linen, uniform and facility services as Life Sustaining Businesses and "essential services." We have posted a letter – Essential Services Designation Letter – on the TRSA Member Only COVID-19 webpage and ask that you personalize it and send it to your local, state and federal regulators, legislators and leaders to reinforce TRSA efforts, thank you.