Executives Discuss Industry Issues with NY Legislators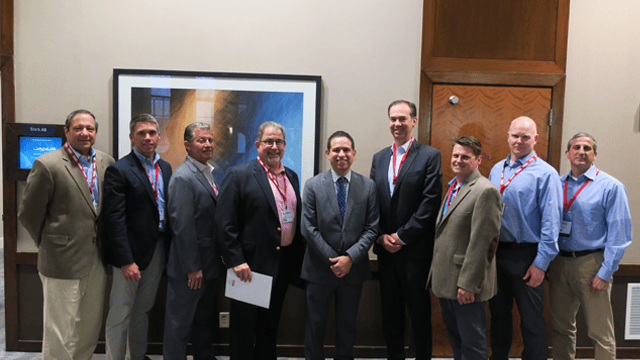 TRSA recently led a delegation of linen, uniform and facility services industry executives to the New York State Capitol in Albany for an impactful afternoon of meetings with key legislators and members of their staff during the New York State Legislative Conference.
The conference, held on May 3-4, featured seven meetings with members of the New York State Assembly and Senate during the final day of the event. Conference attendees met with the following officials:
Assemblymember Kenny Burgos (D-District 85)
Assemblymember Brian Cunningham (D-District 43)
Assemblymember Manny De Los Santos (D-District 72)
Assemblymember Amanda Septimo (D-District 84)
Assemblymember Phil Steck (D-District 110)
The group also met with key staff members from the office of Assemblymember Dr. Anna R. Kelles (D-District 125) and State Sen. Jessica Ramos (D-District 13), who serves as the chair of the Senate's Labor Committee. Sen. Ramos personally joined the meeting to discuss labor issues with conference attendees.
Key topics discussed during the meetings included:
Getting the New York Department of Labor's Wage and Hour Division to exclude the linen, uniform and facility services industry from classification as a member of the hospitality industry. In its New York State Hospitality Wage Order, the state requires hospitality businesses to provide non-exempt employees with an extra hour of pay at the basic minimum hourly rate in addition to pay for the actual hours worked, if the employees' workday exceeds 10 hours.
Call on the New York Department of Health to require healthcare facilities to use a minimum of 50% of reusable healthcare contact textiles (HCTs) in the supply chain to mitigate against future shortages of HCTs, such as those experienced in the state during the height of the COVID-19 pandemic.
Require state healthcare facilities to provide industrially laundered, hygienically clean healthcare personnel attire (HPA) for all healthcare staff members during each shift, and require that healthcare employees not leave the facility with soiled HPAs to protect against the spread of infection, while also discouraging less effective home washing of HPAs.
The opening day of the conference featured an issue briefing by TRSA Vice President of Government Relations Kevin Schwalb, as well as a reception that featured an appearance by the Deputy Secretary for Transportation Nivardo Lopez. Lopez mingled with the group, and discussed upcoming transportation projects that could impact fleet operations, as well as issues such as the congestion pricing proposal that is under consideration for vehicles that enter New York City to make deliveries. Originally intended to focus on delivery drivers for consumer services such as Amazon, the law could have an adverse effect on the linen, uniform and facility services fleet by adding costs to enter the Big Apple to make deliveries to customers.
In addition to TRSA staff members Schwalb, President & CEO Joseph Ricci and Senior Editor, Digital/New Media Jason Risley, conference attendees included:
John Magliocco, Arrow Linen
Walker Morgan, Morgan Linen Service Inc.
Gary Ostrum, Brim Laundry Machinery Co. Inc.
David Potack, Unitex
CJ Spencer, G.A. Braun Inc.
Matt Vacca, Tingue
Conference attendees also were guided by the knowledge of Paul Thomas, a partner in The Parkside Group's government-relations team. The Parkside Group aids TRSA's efforts on behalf of its members in New York. If you have questions about the New York State Legislative Conference or any government-relations issues at the state or federal levels affecting the linen, uniform and facility services industry, contact Schwalb at kschwalb@trsa.org.