Farley Salmon, Promising Next-Gen Leader, Passes Away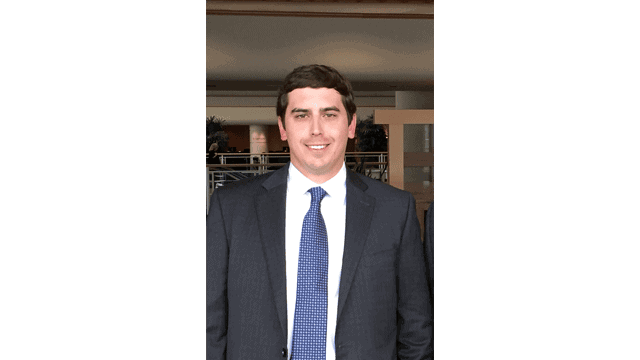 Sigmatex-Lanier Textiles, New York, recently announced the untimely death of Raymond Farley Salmon IV, director of sales. Salmon, who recently was hospitalized with health issues, was 33 years old.
In its news release, Sigmatex-Lanier said that Salmon "brought with him innovative thinking, a quick wit and a deep understanding of the industry. He was always one step ahead – sometimes more!"
Salmon joined Sigmatex-Lanier in 2010 as an account executive. He advanced from director of healthcare sales at the company to director of sales, the post he'd held since 2019. Salmon served on TRSA's Next-Generation Executives Committee, welcoming the challenges of the future of the linen, uniform and facility services industry. In 2019, Salmon also was honored with TRSA's coveted "Above and Beyond Service Award," recognizing achievement and excellence in customer service.
Tony Jackson, director of national accounts at Kannegiesser ETECH, who served as a vice chair on TRSA's Next-Generation Executives Committee along with Salmon, issued a statement on behalf of the committee. Jackson said that, "I have known Farley for several years and he was one of my favorite friends and colleagues in the industry, so like most of us, this news comes as a huge shock. As one of the founding members of the 'Next-Generation Leaders' group with TRSA, we had always looked forward to meeting up together at the annual summer workshops held in Chicago. Just last week I got a text while boarding my flight from him – 'Are you ready for this?'
"We had such a great time with his typical genuine attitude, especially making the new members feel comfortable, as he was always such a great guy to be around. He even bought Cubs' foam fingers for folks at the game to make sure everyone had a great time. I feel blessed to have known Farley and pray for his family at this difficult time. Rest in peace, my brother."
TRSA President & CEO Joseph Ricci, who worked closely with Salmon on several Next-Generation Executives initiatives since the launch of the committee, said that, "Farley had a magnetic personality – he was a person that could light up a room and make everybody instantly feel comfortable connecting. His leadership and contributions to the TRSA Next-Generation Executives Committee were invaluable and will be sorely missed moving forward. Personally, I will miss catching up with Farley at the many TRSA events he attended, especially our annual Cubs' game in Chicago with the entire Next-Gen group."
Sigmatex-Lanier concluded its release by noting that, "It is the passion with which he lived his life and drove his career, his friendship and loyalty to all who knew him and his genuine kindness for his fellow man that set him apart. Salmon has left an indelible mark on Sigmatex-Lanier, its employees and customers. He will live forever in our hearts."