F&B Conf.: Market Trends, Customer Insights and More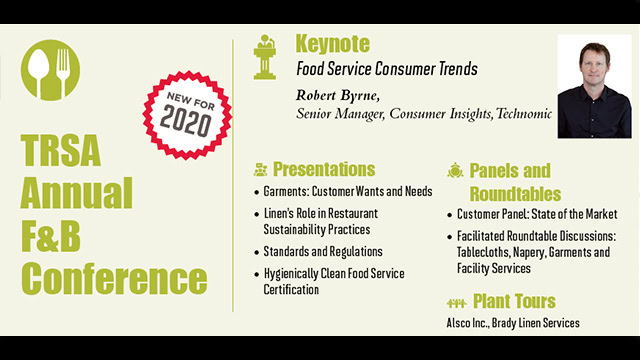 Discover the impact current and emerging food service consumer trends may have on your business at the upcoming F&B Conference in Las Vegas. For the inaugural run of this Feb. 5-6, 2020, event, TRSA is bringing executives and upper management who focus on the F&B market together to tackle tough questions, providing takeaway strategies and approaches moving forward.
TRSA has added the F&B Conference to its professional-development opportunities in response to member requests for enrichment specific to this rapidly growing market. Attendees for this event will benefit from opportunities to build skills, learn best practices from industry leaders, and spend time collaborating and sharing information.
Day one of the agenda will feature tours of Alsco Inc. and Brady Linen Services LLC. Following the plant tours, management teams will gather for debriefing sessions that allow for comparison of operations, thereby enriching the discussion of alternative approaches to similar tasks among conference attendees. The day will finish with a CEO/Executive Roundtable and networking reception.
Day two will begin with keynote presenter Robert Byrne, senior manager of consumer insights at Technomic, a research and consulting firm that serves the food service industry. In addition to Byrnes' presentation, the second day also will feature these sessions:
Garments: Customer Wants and Needs
Linen's Role in Restaurant Sustainability Practices
Hygienically Clean Food Service Certification
Panel discussions pay professional growth dividends in the form of networking and information sharing. The F&B Conference agenda includes these interactive opportunities:
Breakout sessions featuring topics such as table linens, napery, garments and facility services
Customer panel featuring restaurateurs and chefs, facilitated by Katherine Jacobi, president and CEO of the Nevada Restaurant Association
Boost the value of your professional-development dollars by bundling this event with the Second Annual Hospitality Conference, scheduled for Feb. 4-5, 2020, at the same location. Save even more with early registration by Dec. 20. An additional 10% off registration for three or more who register from the same company is also available. Visit www.trsa.org/fandb for additional information. Additional TRSA professional-development events can be reviewed at www.trsa.org/calendar.