F&B/Hospitality Roundtable Features Crown Linen Plant Tour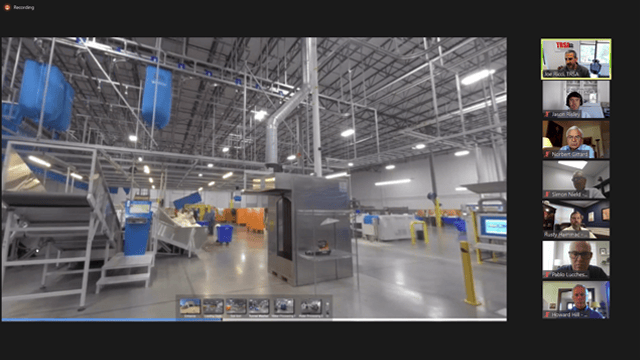 TRSA recently held a virtual roundtable for the food-and-beverage (F&B) and hospitality markets that also included a virtual tour of the newest Crown Linen plant in Fairburn, GA, in the Atlanta suburbs.
Attendees were treated to a walkthrough of the 90,000-square-foot plant section by section, from the moment soiled linens entered the premises until the final stages of laundering and packing. The tour was highly advanced with 360-degree capabilities showcasing the entire floor. The highly integrated plant features two JENSEN Senking tunnel washers with 12, 150-lb. modules, as well as five ironer lines for large and small pieces, with the ability and space to double both in the coming years. The plant also has seven 300-lb. dryers from JENSEN.
Additionally, the plant is reusing roughly 45%-50% of its water with the help of a wastewater treatment and reuse system from Thermal Engineering of Arizona. In April 2020, the plant began using Ecolab's AdvaCare, an EPA-registered disinfecting detergent, which is confirmed to kill COVID-19 viruses and other harmful microbes. The plant, which processes only light-soil hotel textiles, also sprays all of its carts with an Ecolab sanitizer. Throughout the tour, questions from attendees were taken by TRSA President & CEO Joseph Ricci, who, in turn, directed them to both Crown employees as well as representatives from supplier-partner companies with machinery and products in the plant.
Once the tour finished, the roundtable kicked off, giving attendees the opportunity to share their experiences, including both successes and failures, from the past year in dealing with the COVID-19 pandemic. TRSA's Vice President of Government Relations Kevin Schwalb and Director of Membership and Industry Outreach Ken Koepper moderated the hour-long discussion, touching on a number of topics, including the labor shortages currently being felt by the linen, uniform and facility services industry.
Attendees discussed the struggle to find employees, noting that people are making a sizeable enough living off government subsidies such as enhanced unemployment benefits and stimulus checks to discourage them from rejoining the workforce, as well as the fact that many people are still too scared to return to the physical workplace due to the pandemic. Schwalb assured members on the call that TRSA is working with legislators to find a solution to the workforce issues facing the industry. Schwalb also noted that TRSA is in discussion with its contacts on Capitol Hill to lower the proposed infrastructure tax on businesses and increase the use of reusable textile goods in the healthcare industry. As a result of the COVID-19 pandemic and supply chain issues worldwide, it is extremely important that hospitals have at least a minimal stock of reusable gowns, personal protective equipment (PPE), bedsheets, towels and other textile goods that they can use.
The roundtable and tour were sponsored by TRSA supplier partners Ecolab, JENSEN USA Inc. and Thermal Engineering of Arizona (TEA).