FDA Recognizes Use of Reusable Tablecloths in Updated Checklist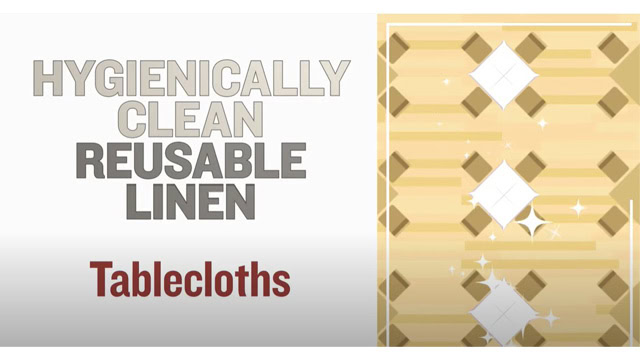 The U.S. Food and Drug Administration (FDA) released today an updated reopening guidance and checklist that includes the mention of reusable tablecloths and napkins. The FDA's original Reopening Checklist mentioned the use of disposable products only, and specifically noted that cloth tablecloths or napkins were not to be used.
TRSA contacted officials from the U.S. Department of Health and Human Services (HHS) and the FDA (a regulatory agency within the HHS) to discuss the increased safety that responsibly laundered reusable tablecloths and napkins provide, as well as the added benefit of aiding in social distancing. Officials from the Food Safety division agreed and changed the guidance language and checklist to include reusable cloth table linens. The FDA also recommends changing tablecloths after each seating.
The new language states:
"Are high-touch self-service containers and items requiring frequent hand contact removed from use, or appropriately washed, cleaned and sanitized, and changed after each customer/party is served (e.g. seating covers, tablecloths, linen napkins, throw rugs, condiments such as ketchup bottles and salt/pepper shakers, and reusable menus)?"
Click here for the updated guidance from the FDA. Click here for the updated checklist. After the link directs you to TRSA's Coronavirus Resource Center, scroll down to the U.S. Food and Drug Administration header underneath the Additional Resources section and click on the FDA Restaurant Reopening Checklist link.