Feds See a Doubling of Long-Term Care Population by 2065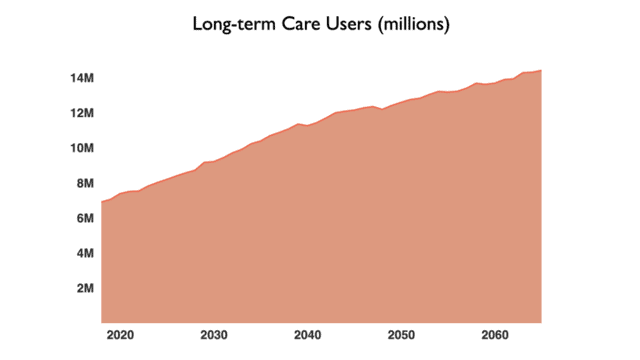 More of us are living longer, says a new report commissioned by the federal government. And you know what that means – demand for space in nursing homes or rehabilitative care is sure to increase – in fact it's likely to double in less than 45 years. That translates to a significant opportunity for outsourced linen suppliers serving this sector. What's more, the burgeoning U.S. population of elderly people could clear the way for home-based care as well.
The report, released on June 14, was produced by the U.S. Dept. of Health and Human Services in collaboration with the Urban Institute. It predicts that U.S. men who turn 65 between 2020-'24 will require an average of 2-3 years of long-term care. U.S. women in the same age bracket will require an average of 3.2 years of long-term care. The upshot, according to an analysis produced by specialty publication MedicareGuide is that the number of Americans needing long-term care – in a nursing home or other rehabilitative setting – is likely to rise from roughly 7 million today to 14 million by 2065. The latter figures also were quoted in McKnight's Long-Term Care News, a leading online trade journal for the nursing home industry.
The report further predicts that by 2050 more than 10 million Americans will require "substantial assistance with at least two activities of daily life, or supervision to severe cognitive impairment."
As for elderly people with one or more disabilities who want to remain in their homes, long-term care specialists have noted that President Joe Biden's (D) recent infrastructure bill included a proposed $400 billion for home and community-based services. A large portion of these funds are expected to go to support long-term care, according to the MedicareGuide article. It's not clear if linen services could be included in that mix. But if the federally backed home-based care expands, it raises the possibility that outside vendors could qualify to provide a range of services to assist in home-based care, including linen supply.