Fighting Unfair Taxes – TRSA's Indiana Legislative Push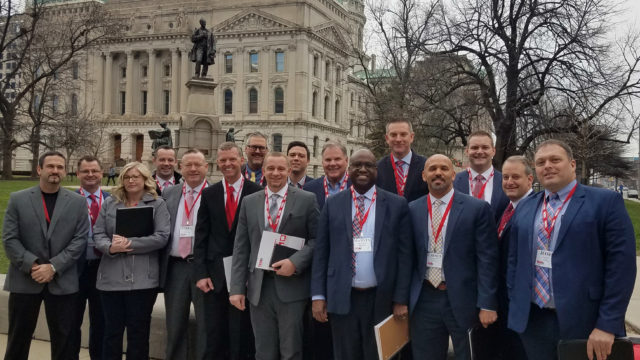 TRSA members recently gathered in Indianapolis for TRSA's inaugural Indiana Legislative Conference. The conference was developed to support TRSA's efforts to oppose an unjust tax increase due to the misclassification of linens, uniforms and facility service products, such as soap and towel dispensers. These misclassifications could cost the industry upwards of $30,000-$50,000 annually per plant.
The group consisted of over 17 general, production and service managers from companies across the state.  "I found it interesting and I think it accomplished our objectives" said Carl Murray, general manager of Alsco Linen and Uniform Rental Services, Indianapolis. "I always tell people the best lobbyists for the industry are the GM's, plant managers and production managers as they are the boots on the ground," said Schwalb while discussing the impressive effort put forth by the attendees, "They tell a great story and can relate the issues to real-life impacts."
The conference kicked off with a general session and issue briefing by Kevin Schwalb, TRSA's vice president of government relations to provide the attendees with up-to-date information on the issue and inform them on the ins and outs of lobbying on behalf of an issue.
The next day, the TRSA "Lobbyists" went to the Indiana State Capitol to meet with their respective legislators, as well as key legislative leaders to introduce the industry and ensure that any issue impacting TRSA members would be heard and taken into consideration. In all, the TRSA delegation visited over 30 state legislative officials. The group met with both state senators and state representatives such as State Sen. Michael Young (R) and Rep. Robert Behning (R).
TRSA has been working with State Sen. Ryan Mishler (R) to insert language clarifying the state tax code to ensure that linens and uniforms are not taxed as personal property. State Sen. Mishler will be working to amend HB – 1065 with language developed by the TRSA Tax Task Force.
The companies represented in TRSA's outreach effort to Indiana lawmakers included:
Alsco Linen and Uniform Rental Services
Cintas Corp.
Morgan Services Inc.
Plymate Inc.
UniFirst Corp.
Wildman Business Group
To learn more, contact Schwalb at kschwalb@trsa.org.