First TRSA-Managed WATS Annual Conf. Held in Madison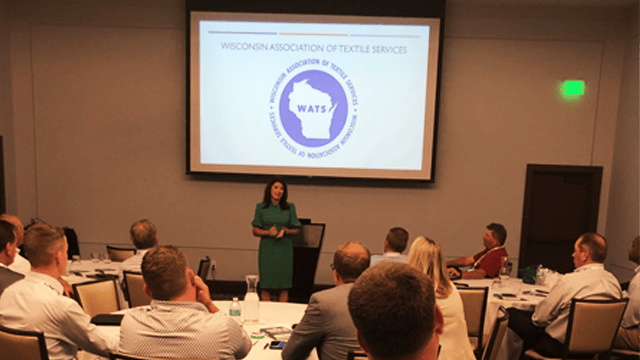 TRSA planned and organized the Annual Conference of the Wisconsin Association of Textile Services (WATS) at The Edgewater in Madison, WI, on Sept. 20-21. This was the first event run by TRSA after WATS decided this summer to partner with TRSA for its association management. WATS members commented on the energy and professionalism that TRSA brought to one of the association's best-attended events in years.
WATS Chair Jim Leef welcomed the group of more than 30 WATS members and presided over the general business meeting. Double keynote speakers, both with roots in the linen, uniform and facility services industry, provided attendees with substantial takeaways. Bob Lisser, founder and president of Growth Advantage and author of the highly informative book The Growth Advantage, focused his keynote on the concept that growth must be cultivated from a strategic standpoint and applied tactically at the front line. "Planning and executing by the right people who are focused on the right objectives will lead to growth," Lisser said. Each attendee received a free copy of his book, The Growth Advantage.
Troy Harrison, a world-renowned sales speaker, trainer, consultant and coach, was the second keynote. Harrison built a successful sales legacy in the commercial laundry industry and now uses his skills to train sales and marketing teams. He spoke about how to recruit and retain winning sales teams. "I really enjoyed speaking for the WATS group, and got some of the most interesting and unique questions I've ever had," said Harrison, who offered each attendee a one-hour consultation after the conference. "It was a great group, a great experience."
Rebecca Kleefisch, the former Republican Lt. Governor of Wisconsin, discussed the current political climate in in the state and the importance of voting on issues that directly impact the industry like employment.
A cocktail reception and dinner rounded out the first day of the conference from a rooftop overlooking Lake Mendota. The evening ended with a lively auction run by David Jetter, CEO, Bay Towels, and Josh Bostick, director of customer services, Healthcare Linen Services Group, where they cajoled bidders and raised more than $6,600 to help support WATS advocacy issues.
An annual golf event completed the conference and 20 players hit the links for fun, camaraderie and bragging rights. For more information, visit www.wislaundries.com.