Fleet Managers Hit Capitol Hill to Lobby Feds on EV Regs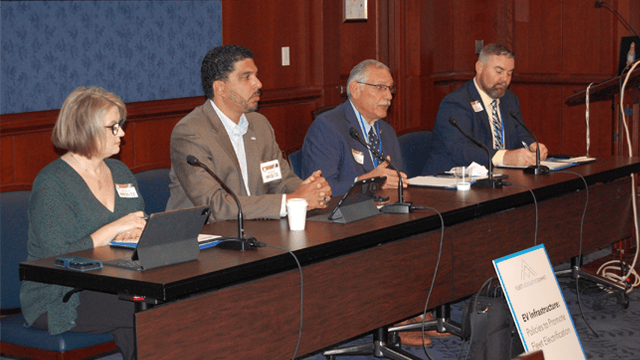 Fleet Management Association members gathered in Washington Sept. 19-21 to discuss the emerging regulatory burdens of vehicle electrification and make their case that the federal government must accelerate plans to support electric-vehicle (EV) charging infrastructure.
Formerly identified primarily as the National Association of Fleet Administrators and now known best as NAFA, the group based its Fleet Legislative Summit in Arlington, VA, with an outing that took them through the U.S. Capitol. On the Hill they shared challenges they currently face in electrification (and anticipated compliance obstacles) with staff from 21 members of Congress: 12 representatives and nine senators. They also conducted virtual meetings with individual Congressional offices.
The group interaction took place in a Senate meeting room with four NAFA members presenting to the legislative staffers. Presenters represented four key NAFA membership components: public works, public safety, private sector and outsourced fleet-management companies.
NAFA emphasized:
How quickly electrification can be adopted hinges on the availability of vehicles that fleets need and the development of adequate charging capacity
The existing National Electric Vehicle Infrastructure (NEVI) program, established by the recent bipartisan infrastructure law, is only a start. Much more investment is needed to facilitate charging on highways, in communities and at fleet depots
Federal tax policy requires adjustment for at-home charging by drivers who work from home
Proactive local mapping of utility capacity and fleet locations is needed to expedite development of charging infrastructure
NAFA invited TRSA to participate in this Legislative Summit in light of TRSA members' increasing interest in fleet-management activities. In May at the Advanced Clean Transportation (ACT) Expo, Long Beach, CA, TRSA conducted its first Fleet Summit, where members viewed and drove zero emission vehicles (ZEVs) and examined related technologies.
California's Advanced Clean Fleets Regulation considers companies "high priority" for ZEVs if they earn over $50 million in gross revenue or own, operate, or direct 50 or more vehicles. Vehicles a with gross rating (GVWR) of over 8,500 lbs., regardless of fuel type, are subject to regulation.
Some linen, uniform and facility services companies fall into the high-priority category. They have two options for compliance:
Purchase only ZEVs beginning in 2024 and remove internal combustion engine vehicles at the end of their useful lives.
Meet ZEV targets as a percentage of the total fleet starting with types most suitable for electrification. For box trucks and vans, percentages and deadlines are 10% by 2024, 25% by 2028, 50% by 2031, 75% by 2033 and 100% by 2035.
NAFA members with California fleets are convinced the California Air Resources Board (CARB) won't budge from the regulation's timetables. Already, fleet managers have been subjected to new rules requiring them to report data on their operations, such as the number of vehicles, to the state. As long-time observers of increasing vehicle regulation there, NAFA members say the ZEV regulation has some of the shortest lead times for compliance in such California bureaucratic history.
The NAFA Legislative Summit covered numerous topics beyond electrification. Look for these to become subjects of future TRSA communications. These Summit highlights included:
Preventing Auto Recycling Thefts (PART) Act. This federal legislation aims to curb theft of catalytic converters. The average insurance claim is nearly $2700 (plus deductible), with State Farm paying out $50 million for more than 23,000 claims. One ring stole $22 million worth of catalytic converters.
100 Best Fleets and Roundtable. NAFA invites members to report fleet-management practices; judges read the submissions and rate them to identify the top 100. Ratings reports are provided to entrants. Because NAFA's traditional membership is the public sector, contest criteria had been set accordingly. For 2023, separate criteria are under development for private fleets.
Data access legislation. Since 1990, automakers have been required to provide independent repair shops with the same information and training tools they would give a new car dealer to repair vehicles. Today manufacturers are hanging onto their exclusive access to data generated by vehicle operational systems–data stored in Onstar and built-in telematics. NAFA is pushing for legislation that recognizes the owner/lessee of a vehicle as the owner and controller of all data generated, collected and stored by a vehicle.