Food & Fashion – Societal Shifts Focus of F&B Roundtable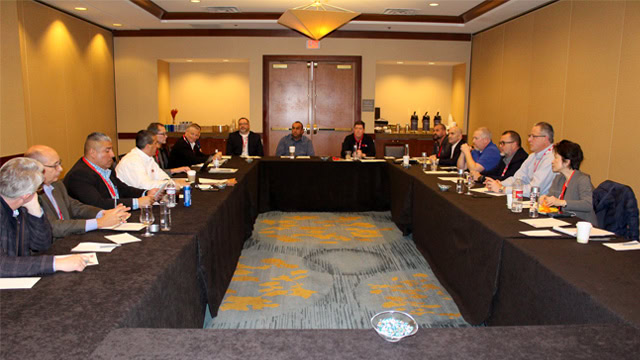 The trends driving the food-and-beverage (F&B) business – casualization, the need to differentiate one's décor to compete, while at the same time containing costs – aren't making things easy for restaurateurs, or for the F&B laundries that supply them with tablecloths, mats, chef wear and more.
This state of affairs set the table for a constructive detailed discussion by 13 F&B linen supply operators who participated in TRSA's F&B Roundtable discussion on Feb. 5 at the Westin Las Vegas Hotel & Spa. The roughly two-hour meeting represented the kickoff of TRSA's inaugural F&B Conference,, which drew nearly 100 attendees for the Roundtable, plus a full day on Feb. 6 of educational sessions on topics ranging from F&B macroeconomic trends to sustainability, customer views on linen supply services, government relations and much more.
The 3 p.m. Roundtable session began with a discussion of market trends, including shifts in attitudes among restaurant patrons. The main drivers of change are those in the millennial (born 1981-'96) and Gen Z (born 1995-2015) cohorts. The good news is these groups thrive on restaurants for socializing and entertainment. The challenge comes with their fashion outlook, which reflects a more casual look, such as the tattered blue jeans that are popular, particularly among college-age women and men. Several operators noted that these trends inspire a more casual look in restaurants, with fewer tablecloths and more natural wood tables. Napkin designs too reflect a more a casual trend with materials such as denim and bistro-style napkins (including those with reversed stripes) gaining popularity.
One operator said a customer requested white napkins that the restaurant would dip in a tie-dye solution in order to achieve a casual, appealing look. "They wanted us to buy that napkin and tie dye it themselves," he said. A frayed look was also part of the appeal in line with the restaurant's casual image. One operator described the look a restaurant customer seeks as "the uglier, the better. How can you say no?"
A similar trend was noted with restaurant employee garments. The standard fancy white chef coats and plain white shirts and checked pants for bus staff and line cooks are less popular today, although some high-end chefs still want a professional looking, monogrammed coat. Instead, some restaurants want more industrial-type clothing for kitchen wear, such as blue work shorts and bandannas, rather than chef hats. The latter are typically supplied by the restaurant, rather than a linen supplier. "It's not a uniform," one operator said. "It's more of a costume. We're going to industrial." Another operator commented that some chefs prefer short sleeves in order to show off their tattoos.
Operators discussed a related trend of environmentalism among restaurant customers and patrons. For example, several operators noted a growing resistance to the use of plastic wrap, similar to the movements to do away with Styrofoam containers and plastic straws in restaurants. One operator suggested that laundry operators might want to adopt the Japanese custom of wrapping goods in reusable covers, rather than disposable materials.
In an overview of government affairs issues, TRSA's Vice President of Government Relations Kevin Schwalb noted that similar efforts are happening at the policy level, particularly in states like California, which is now considering legislation that would require laundries to install costly filtering systems to remove small or microscopic pieces of plastic from waste water. TRSA helped defeat a similar bill last year and is opposing the bill again this year, arguing that it's unduly costly and impractical.
TRSA President and CEO Joseph Ricci added that environmentalist trends tend to emanate from Europe, then enter Canada and the West and East coasts of the U.S. before moving inland. The European idea of a "circular economy" is likely to gain favor here. Operators should be aware of it and work to partner with government where they can to reduce waste and conserve resources. "We're not there yet, but we're learning more about it," Ricci said. "It's still emerging in this space, but it's coming."
F&B Roundtable Participants included:
Chris Brown, General Manager/Managing Partner, Mickey's Linen, Chicago
Nina Canning, Marketing Manager, Alsco Linen and Uniform Rental Services, Salt Lake City
Dennis Carmassi, Sales Manager, Complete Linen, South San Francisco, CA
Vicky Cayetano, President, United Laundry Services Inc., Honolulu, HI
Phoebe Ellis, Owner, Lace Linen Supply, Petaluma, CA
Sergio Farinas, COO, Universal Line Service LLC, Louisville, KY
Mike Knowles, COO, Superior Linen Service, Tulsa, OK
Chad Levertu, Assistant General Manager, Hamilton Linen & Uniform, Denver, CO
Humberto Mata, Production Manager, UniFirst Corp., Harlingen, TX
Curtis Medley, General Manager, UniFirst Corp., Harlingen, TX
Brandon Scantlen, Corporate Service Director, Superior Linen Service, Tulsa, OK
Jarrad Shields, General Manager, Superior Linen Service, Tulsa, OK
Terry Smith, Regional Vice President, Hamilton Linen & Uniform, Denver, CO
Victor Villasenor, General Manager, Republic Master Chefs, Los Angeles, CA
For more on the Roundtable and upcoming programs like it, contact Ricci at jricci@trsa.org.