Food Processors Learn About Hygienically Clean
Hygienically Clean certification staff staged an exhibit at Chicago's Process Expo on Sept. 19-22 to promote the program to the heaviest-soil market in food processing (manufacturing): the meat/poultry/seafood sector. Demographics of visitors to the exhibit indicated that it served this purpose, as well as exposing the Hygienically Clean Food Safety designation to other key segments of the industry.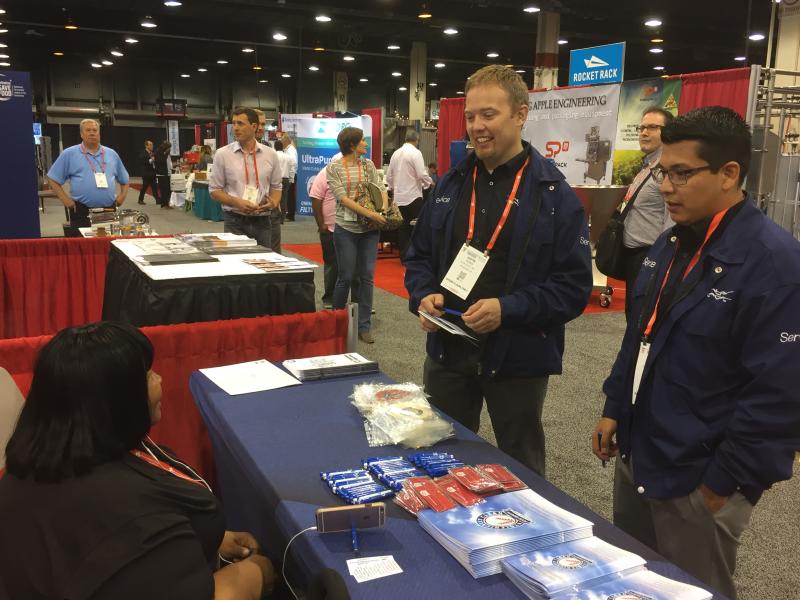 More than 120 attendees of the expo, held biennially to build partnerships among the most influential buyers and sellers in the food-processing and packaging industries, visited the Hygienically Clean exhibit. Staff captured demographic information on most of these visitors. When registering, 90% of them identified their companies with at least one of the following food product markets:
Meat/Poultry/Seafood
Bakery
Frozen Foods
Prepared Foods
Beverage
Grain/Mill/Cereal
Dairy
Fruit/Vegetables
Confection/Candy
Pet Foods
A slight majority of the tracked visitors to the Hygienically Clean display indicated they operate in only one of these. For most of those individuals, meat/poultry/seafood is the one. However, because so many of the remaining visitors operate in multiple markets, the average number of these per visitor exceeded two. Factoring these multi-market operations into the equation, more of the Hygienically Clean visitors are connected to meat/poultry/seafood than not.
Regardless of food product market, Hygienically Clean's message was the same: food manufacturers and processors concerned about textile hygiene should do business with linen, uniform and facility services companies that have earned this certification. A laundry that receives the designation is committed to best-management practices as verified by third-party inspection and their ability to produce hygienically clean textiles as quantified by ongoing microbial testing.
If their current suppliers aren't Hygienically Clean certified, visitors were told that they should encourage them to do so.
A sign in the exhibit displayed the locations and company names of the 50+ laundries in the U.S. and Canada that have achieved the certification. This enabled visitors to identify certified providers that could serve their local facilities. It reinforced the point that when they review uniform, linen and facility services options, every laundry under consideration should be Hygienically Clean Food Safety certified.
In addition to promoting certified laundries, exhibiting at the Process Expo enabled Hygienically Clean staff to visit displays of TRSA associate members who supply food processors (as well as launderers). Examples included Norchem Corp. (wastewater systems) and ARCO Murray (facilities construction). The show also provided TRSA's Hygienically Clean staff with an opportunity to network with other certification organizations—those working in the food industry: 3-A Sanitary Standards Inc. and the Safe Quality Food Institute (standards-setters), plus Perry Johnson Consulting and Registrars (certifiers). See the staff at work in this Facebook photo album.