Four-Star General Addresses Leadership & Leg.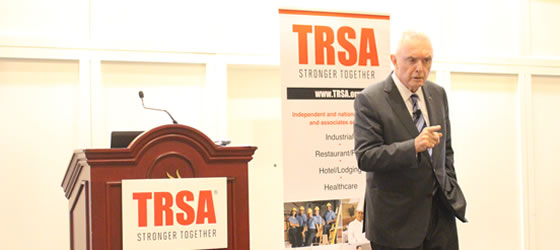 The first day of TRSA's 2015 Leadership & Legislative Conference kicked off with a pair of high-profile presentations, including a talk by a renowned four-star general, and an informative panel discussion featuring several lobbyists for prominent DC organizations sharing their thoughts on the political landscape in the coming year.
In a presentation titled "Leadership of Complex Organizations," keynote speaker Gen. Barry McCaffrey, U.S. Army (Ret.), explained the leadership challenges that face companies seeking continuous improvement. Gen. McCaffrey served 32 years in the U.S. Army and retired as a four-star General. For five years after leaving the military, he served as director of the White House Office of National Drug Control Policy. He also has served on the Board of Directors of several businesses.
During his presentation, Gen. McCaffrey touched on his experience in combat duty, as well as his experience strategizing both in the military and in the business world, with exposure to great leaders and poor ones. He defined the characteristics of leaders who are effective in crises, explained how strong leaders maximize their subordinates' potential and characterized their winning personality traits.
Leaders can have a difficult time gaining followers in an age when Americans lack trust in many institutions, including Congress, McCaffrey said. But polls show at least half are confident in military, police and religious leaders. Fundamental American values such as hard work and faith ensure the U.S. offers better opportunities to its citizens than anywhere else in the world, he said. Their insistence on following only the best leaders contributes mightily to the nation's continuing success.
Prior to McCaffrey's speech, the afternoon got underway with a panel presentation featuring several prominent Washington representatives for trade associations representing manufacturers, hotels and restaurants. The panel shared their concerns with attendees about potentially onerous environmental and labor rules.
The presentations reflected these industries' greatest operational concerns, underscoring their priorities for growth and cost control, thus prompting TRSA members to consider supporting these associations' agendas as a means of preserving their own businesses in 2015.
Alerting industrial uniform providers particularly was the National Association of Manufacturers' (NAM) assessment of EPA's proposed ozone rules as "the costliest regulation in history." Roughly two-thirds of the U.S. land area would be declared in nonattainment under the new rule, preventing manufacturers from expanding operations unless other businesses in their areas reduced emissions or shut down.
Economic growth in the most regulated regions would be severely hampered or completely halted, explained Ross Eisenberg, NAM energy and resources policy VP. A recently commissioned NAM study estimated the compliance burden on U.S. business at $270 billion per year, jeopardizing millions of jobs.
Brian Crawford, government and political affairs VP, American Hotel & Lodging Association (AH&LA), covered "living wage" initiatives: government efforts to require payment of hourly wages well above the minimum wage and possibly, in addition, mandated paid sick leave. While proponents argue these measures are important for workers, AH&LA has documented them as job killers, placing an undue burden on employers who already provide excellent wages and benefits.
Working to block such federal measures (and local ones that could spread to other states and municipalities) AH&LA is staying in close contact with key members and staff in the House and Senate to emphasize the job-killing effects of living wage hikes while highlighting the track record of upward mobility in the lodging industry. One local proposal receiving national attention: a $15.37 minimum wage in Los Angeles. AH&LA is aggressively tracking such proposed increases and equipping members with information and tactics to challenge them.
The National Restaurant Association (NRA) foresees difficulty on the environmental front because of foodservice operations' challenges in controlling food waste. According to the U.S. Department of Agriculture (USDA), such waste is 30% to 40% of the domestic food supply. An estimated 133 billion lbs. of food from stores, restaurants and homes was wasted in 2010, according to the USDA. The amount of uneaten food from homes and restaurants in 2008 was valued at $390 per consumer.
Laura Abshire, NRA director of sustainability policy and government affairs, noted the industry's involvement in the Food Waste Reduction Alliance (FWRA), a cross-industry effort by restaurateurs, supermarkets, grocery stores and grocery manufacturers. As part of its role in the FWRA, the NRA is lobbying Congress to encourage more food donation by extending the enhanced tax deduction for food donations by smaller corporations.
Keep an eye out for the March issue of Textile Services magazine for more coverage of TRSA's Leadership & Legislative Conference.