Four Tours Highlight Feb. Production Summit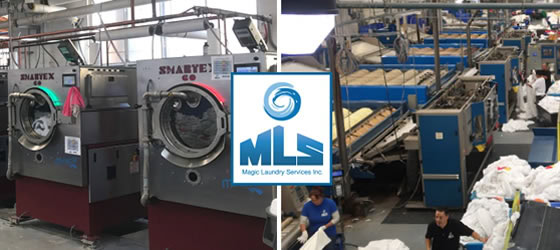 Visits to four industry facilities distinguish the agenda for TRSA's Production Summit and Plant Tours, scheduled for Feb. 21-22, 2018, in Anaheim, CA. Now in its fifth year, the twice-yearly Summit enables linen, uniform and facility services operators to take home a wealth of ideas for improving performance and production management by meeting with peers and viewing high-productivity plants.
Three of the four facilities on the agenda are on the same site: Magic Laundry Services' seven-acre campus in Montebello, CA, where these operations, each with washer-extractors and tunnel washers, share newly expanded loading docks. Otherwise, the three are separate operating plants, dedicated to distinct workflows for hotels' customer-owned goods (COG). Summit attendees whose companies serve any market (F&B, healthcare, hospitality, industrial) will recognize how wider use of such "cells" might more effectively address the industry's ever-growing number of textile products requiring separate processing.
The other destination will be the MODRoto manufacturing plant in La Mirada, CA, where you'll get acquainted with the variety of molding techniques that distinguish cart designs as MODRoto personnel describe and demonstrate processes. You'll see how carts are engineered to pack big loads with minimal tare weight, while providing substantial ergonomic benefits.
Summit general sessions and breakouts examine current industry productivity trends and help attendees hone management and technical skills. These presentations and lessons learned from plant tours enable you to improve everyday production management decisions immediately following your Summit participation.
Meeting agenda highlights include a keynote presentation by Lisa Rosser, a military hiring and retention strategist, providing techniques and tips to attract veterans with valuable skills and training. A retired Army Reserve lieutenant colonel, her military career spanned 22 years (active and reserve) including roles in performance management, recruiting, staffing, training and skills development.
Other scheduled presentations include:
How Certification Inspection Assesses Hygiene. You'll become familiar with the checklist for Hygienically Clean certification, learn to identify critical control points throughout the laundry process and prepare to upgrade plant quality-management documentation.
Contributing to Positive Company Culture. Speakers presented by TRSA's Women in Textile Services Committee will discuss how to foster your company's core values and develop your team around them, a must for creating shared and personal accountability for achieving department and corporate goals.
Preventive Maintenance to Protect Your Bottom Line. Tactics will be shared to improve PM to generate significant savings, including best practices for plants of all sizes, communication tactics that keep PM on schedule, and guidelines for production's role in PM.
Breakout sessions on the Anaheim agenda include:
Effective Inventory Control for Production Departments
How Smart Phone Apps Enhance Your Business
Maximizing Return on TRSA's Apprenticeship & Internship Programs
New OSHA Fall-Protection Rule Compliance
Designed to offer the greatest benefits to general, plant and production managers, engineering and maintenance personnel as well as others responsible for production supervision, inventory control and product quality, the Production Summit and Plant Tours series maximizes participants' continuing collaboration with experienced professionals from TRSA member companies, the industry's most productive and profitable organizations. One hundred percent of the attendees who evaluated the October 2017 Summit indicated they would return to another Summit.
Early registration discounts are available through Jan. 12, 2018. Launderers can save even more when several company employees attend together or if you register for the fall 2018 Summit at the same time. Contact Mary Beth Porter at 877.770.9274 or mporter@trsa.org for discount codes before registering. Learn more at www.trsa.org/productionsummitwinter.