Fox News Contributor Highlights Healthcare Conf.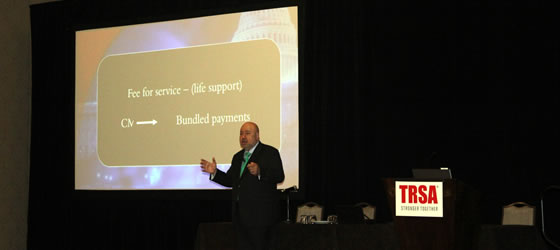 TRSA's 2016 Healthcare Conference & Plant Tour kicked off on Nov. 30 with a morning keynote speech by a prominent healthcare expert and television personality on the future of healthcare in the United States. The two-day event at the Omni Nashville (TN) Hotel featured several informative discussions and panel presentations on the state of healthcare and its impact on the textile services industry.
The first presentation of the day came from Dr. Manny Alvarez, widely known as Dr. Manny. Dr. Alvarez is a senior managing health editor for Fox News and its affiliates. He has offered his expertise on a variety of shows including Fox & Friends, The Kelly File and the O'Reilly Factor.
During his keynote speech titled, "Healthcare's Future – What's Next?" Dr. Alvarez began by sharing his background story of being a Cuban immigrant in a U.S. foster family program, to becoming a successful medical expert and media personality. After connecting with the crowd with his personal success story, Dr. Alvarez focused on the current healthcare model, the Affordable Care Act, and the impact that the legislation has had on the healthcare market since being enacted into law in 2010. While the law remains in place at the moment, with the upcoming transition of power from President Barack Obama to President-Elect Donald Trump, the legislation appears poised for changes in the near future. Dr. Alvarez shared his opinion on what a Trump presidency could mean for the future of the law, and while nothing is set in stone yet, it appears that the legislation will undergo significant changes. After he wrapped up, Dr. Alvarez took several questions from audience members on the state of healthcare in America.
In addition to Dr. Alvarez's keynote speech, several panel presentations took place throughout the morning. A panel titled "Innovative Market Driven Services" featured Jim Buchbinder, vice president of hospital services, Economy Linen; Josh Ramirez, general manager, Medico Professional Linen Service; and Carey Scurria, strategic account manager II, Crothall Healthcare. Scott Delin, vice president of healthcare sales, Fashion Seal Healthcare, moderated the panel.
Another panel, titled "Quality Product Innovations" featured several associate member company executives, including Norbert Gittard, vice president of sales & marketing, JENSEN USA Inc.; Jason Lang, research, development & engineering director, global textile care, Ecolab Inc.; Cecil Lee, director of healthcare laundry marketplace, Standard Textile; and John Wintz, regional group vice president, Standard Textile. This panel was moderated by Tim Montague, executive vice president, Foussard Montague Associates Inc.
The afternoon featured a pair of hour-long presentations on infection prevention and integrated delivery networks in the healthcare market, before moving onto breakout sessions on cart cleaning and infection prevention, and radio frequency identification, or RFID, chips and their use in the healthcare market. The day closed with a panel presentation focused on the NOVO Health Services plant that the group would tour the following day. For more on the plant tour, click here.