Global Outreach: Ricci Outlines U.S. Market at Swedish Confab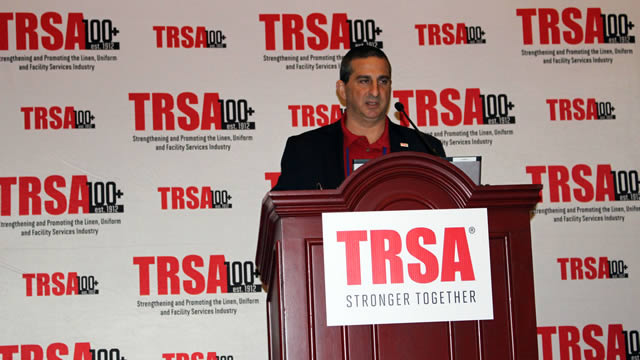 TRSA President & CEO Joseph Ricci recently gave an update on the state of the United States linen, uniform and facility services industry to more than 130 international executives at the Annual Meeting for Sveriges Tvätteriförbund, the Swedish Laundry Association. The Annual Meeting was held on May 16 at the Scandic Rubinen Hotel in Gothenburg, Sweden.
The report included data from the North American Industry Classification System (NAICS) code estimates from the U.S. census, as well as survey data from R.W. Baird, and linen, uniform and facility services company reports. Ricci showed several graphs charting revenue growth among industry companies from $16.3 billion in 2012 to $20.3 billion in 2018. While the market is currently generating revenues of $20.3 billion, the potential exists for the market to ultimately reach $34 billion or more with increased outsourcing from potential customers.
"According to analysts, much of the anticipated industry growth opportunities for the past decade have been in facility services – 65+ percent – and direct sale – 40+ percent," Ricci said. "However, real growth of more than 20 percent has been in traditional services – uniform rental and linen supply due to record employment levels and an aging population."
Ricci highlighted the direct impact of employment figures on the growth of the uniform sector and the industry's efforts to offset employment shifts in healthcare-related business, particularly the growth in outpatient medical. He further emphasized TRSA's initiatives to generate awareness of the potential cost-savings and other positive impacts of outsourcing laundry operations for hotels and long-term care facilities. He also highlighted opportunities in garments and workwear, as well as personal protective equipment. Ricci further discussed the reduction in plant costs due to investments in automation, safety and the reduction of water and energy consumption, as well as the impacts of consolidation.
In addition to Ricci's presentation, other topics discussed at the Annual Conference included:
The role of suppliers
How do you buy laundry for 17 million hotel guests?
How can your business become circular?
How to make sustainability profitable
Reducing the carbon footprint of garments and textiles
As the largest international association for companies supplying, laundering and maintaining linens, uniforms and workwear, TRSA has taken a leadership position in the development of information-sharing forums such as the International Textile Services Alliance (ITSA) website and support of the World Textile Services Congress (WTSC). In a continued effort to expand TRSA's ability to communicate evolving global markets and regulations, while in Europe Ricci met with senior executives at Messe Frankfurt regarding an expanding international role of TRSA in Asia, Europe and the Middle East including global research initiatives, and participation in international regulations and standards. In addition, he attended the European Textile Services Association (ETSA) Annual Conference in Dublin. Celebrating its 25th anniversary, ETSA's event attracted more than 100 industry leaders from the largest European launderers and suppliers.
For more information on the Swedish Laundry Association and the European Textile Services Association's Annual Conferences, click here and here.