Global Report Touts Textile Hygiene, Sustainability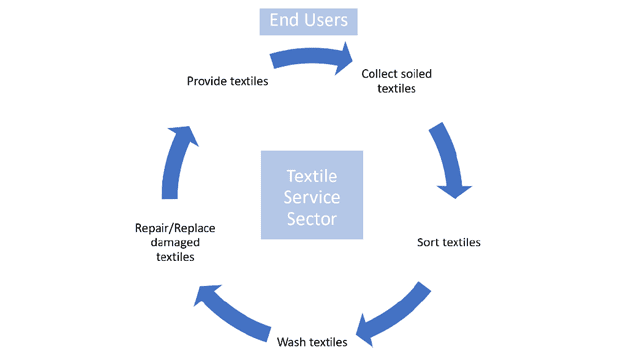 Joseph Ricci, president and CEO of TRSA, recently participated in a national associations videoconference to discuss issues impacting the global linen, uniform and facility services industry. At the meeting, the findings of a new report, titled "Why Textiles Win in the Long Run," was presented to the 15 international association executives in attendance.
The report is the result of close cooperation between TRSA, the European Textile Services Association (ETSA), the Belgian Association for Textile Care (FBT), the Textile Service Association (TSA-UK) and the Swedish Textile Service Association. The report examines published literature on hygienic and sustainability performance of reusable textile-based table linens and the single-use disposable table coverings used in service industries, such as hotels and restaurants. The study concludes that textile table linens are much more sustainable compared to disposable table coverings. While maintaining these environmental credentials, the reusable textile table linens do not seem to compromise on hygienic performance when compared to disposable table linens.
Key points of the study include:
When compared to plastic, paper, stainless steel, glass and vinyl, cotton fabric from renewable textiles was the material with the lowest half-life, implying that the COVID-19 virus dies faster on this type of surface compared to paper surfaces.
Choosing to supply your business or residence with textile table linens helps generate jobs locally through linen, uniform and facility services companies. As a result, supporting this sector is vital in supporting local jobs in municipalities throughout Europe and North America.
The business model of professional linen, uniform and facility services is inherently circular, because it minimizes waste, keeps products and materials in use for as long as possible, and finds new uses for textiles once they can no longer be used for their first purpose through re-use, upcycling or recycling.
The linen, uniform and facility services industry employs a diverse array of people from both highly educated engineers within the area of industrial processes and logistics, as well as many thousands of workers with lower levels of formal education.
While the maintenance and environmental footprint of textile linens is lower than disposables, the hygienic performance of textile table linen is equal to disposable table linen, making textile linens just as hygienically effective while being more environmentally conscious.
European and the U.S. linen, uniform and facility services sectors together support almost 330,000 jobs in total. These jobs represent pillars to local communities and provide essential textile services to communities in both Europe and North America.
Innovative ways of recycling of textile fibers, such as the use of alternative fibers in textile production and the increased use of non-fossil energy in the washing process, are continuously decreasing the environmental impact from textiles.
To read the full report, click here. To read a summary of the report, click here.
The meeting also included a discussion of collaborative efforts on events and webinars, technical standards affecting the industry and global survey data. The next meeting of the national associations will take place in May.
| | |
| --- | --- |
| Country | Participating Organization |
| Austria | FBÖ – Fachverband der Bekleidungsindustrie Österreichs & FGW Fachverband der Gewerblichen Wäschereien |
| *Belgium | FBT – Fédération Belge de l'Entretien du Textile asbl |
| Czech Republic | APAC – Asociace Prádelen a Čistíren |
| *Denmark | BVT – Branche-foreningen for Vask og Tekstiludlejning |
| *Finland | Tekstiilihuoltoliitto Ry |
| *France | GEIST – Groupement des Entreprises Industrielles de Services Textiles |
| Germany | DTV – Deutscher Textilreinigungsverband |
| *Germany | WIRTEX – Wirtschaftsverband Textil Service e.V. |
| *Italy | ASSOSISTEMA – Associazione Sistema Industriale integrato di beni e Servizi Tessili e Medici Affini |
| *Norway | NRV – Norsk Renseri- & Vaskeriforening |
| *Sweden | ST – Sveriges Tvätteriförbund |
| *Switzerland | VTS – Verband Textilpflege Schweiz |
| *United Kingdom | TSA – Textile Services Association |
| *USA | TRSA – The Association for Linen, Uniform and Facility Services |