GM Roundtable Conversations Focus on Recruitment, Retention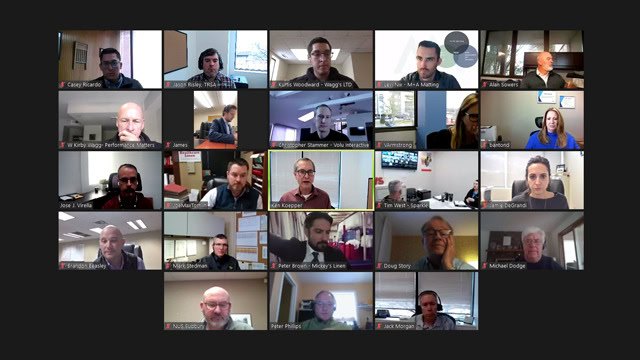 TRSA hosted its inaugural General Managers' Virtual Roundtable on Jan. 26. Topics discussed during the hour-and-a-half virtual meeting included building middle management, maintenance and engineering staffing and employee retention.
Peter Phillips, president, Trailwalk Holdings Ltd.; Alan Sowers, general manager, Alsco Uniforms, Charlotte, NC; and Christopher Stammer, CEO, Volu Interactive, served as facilitators for the wide-ranging discussion.
After a brief introduction from Ken Koepper, TRSA's director of member and industry relations, the 60-plus attendees broke into smaller groups of roughly 15-20 participants to share their thoughts on the following topics:
Competing with other industries for maintenance/engineering staff, including the oil-and-gas industry, Amazon and other jobs that compete with higher wages.
Building the middle-management team, including insights on how to fill these difficult-to-staff roles and how to encourage greater communication between the executive-leadership team and middle management.
Employee retention, including difficulties retaining new employees and how to use temp workers to supplement staff.
TRSA created the General Managers' Virtual Roundtable series to provide an opportunity for GMs to take advantage of industry peers' insights and expertise for strategic planning. Participation in these roundtables will support GMs' interaction with senior management, their efforts to contribute to their companies' direction and focus, and their personal strategies for achieving short- and long-range goals.
The next General Managers' Virtual Roundtable will take place on July 27 at 1 p.m. EDT. Click here for more information and to register for the event.