Going Strong at 70 – Gunderson Marks Anniversary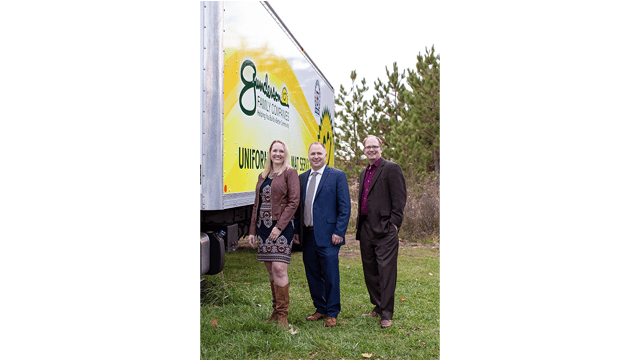 Gunderson Uniform & Linen Rental, Menasha, WI, recently announced it's passed a major milestone for laundry independents: it's now celebrating its 70th anniversary of family ownership in its home base of Menasha, WI, south of Green Bay.
"We've been focused on providing quality products and exceptional customer service since my grandfather opened his first store in Neenah (WI)," said Sara Gunderson, who with her brother Doug are third-generation owner/operators of the company.
Gunderson Uniform & Linen Rental provides customers with an array of products, ranging from uniforms and workwear items to table linens, healthcare textiles, dust mats, cleaning towels, mops, microfiber cleaning cloths and restroom supplies. The latter category includes paper towels, soap and odor-control systems. "We have dedicated account managers who get to know our customers and understand their needs," Gunderson said. "We strive to provide world-class service with our certified Hygienically Clean linen and our ability to be agile and flexible."
Gunderson Uniform & Linen has two Hygienically Clean certifications, in Healthcare and Hospitality. These certifications demonstrate the company's commitment to service quality as well as safety. The certifications require adherence to best processes for washing and finishing, as well as plant inspections and regular testing of textiles. "Having linen free of yeast, mold, germs, bacteria and viruses is essential to our customers, which is why we sought certification," Gunderson said. "The certification shows that we take all the necessary precautions, have the best practices in place and participate in third-party lab testing of our linens. The certification process is rigorous, and we've worked hard to ensure that the linen is not just clean but hygienically clean," (i.e., free of microorganisms that can transmit disease).
Gunderson Uniform & Linen has specialized in providing excellent customer service since its founder, Douglas E. Gunderson opened his first laundry in 1952. The company has grown significantly since then – both through acquisitions and organically. Today, Gunderson services clients in the Fox Cities of Northeast Wisconsin, plus Milwaukee, Madison, Green Bay, Door County, the Lakeshore and Central Wisconsin. The company operates two plants: one focusing on healthcare linen and the other on industrial textiles.
Keeping pace with technology has helped Gunderson remain competitive in the hotly contested workwear market, the release said. All the company's garments are fitted with radio frequency identification (RFID) tags, which are sewn into each item, using an individual tracking number. This lets Gunderson track the movement of these goods throughout the laundering and rental process. "It gives confidence to businesses that they will get back what they turned in, allowing us to provide accuracy on our deliveries," Gunderson said. The system also allows the company to tell customers with certainty where their orders are.
Gunderson also has invested in modern equipment to advance its sustainability goals, the release said. These efforts include reclaiming heat and water from washers. "Our mission is to provide the highest quality products and services in a sustainable and resourceful way," Gunderson said.
Finally, while washing systems and textiles have evolved dramatically since the founding of Gunderson Uniform & Linen, its commitment to customers has remained steadfast. "While there have been significant improvements in the areas of laundry equipment, information and fabric technology, the principle of providing quality linen at a fair price with exceptional service has not changed," Gunderson said. "It still comes down to the basics of delivering a great product with honesty, integrity and a smile." Click here to learn more.