Golden State Revving Up New Regulatory Threats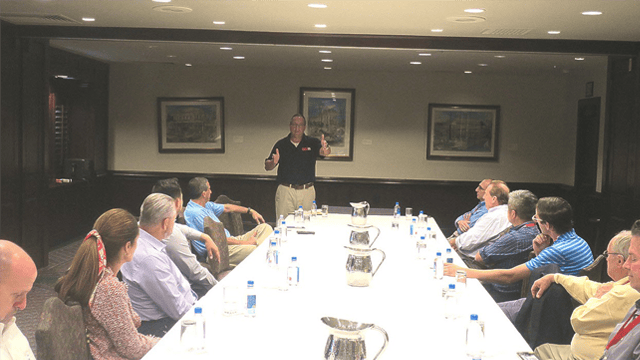 The California leg of TRSA's Reopening Tour (trips to U.S. regions to meet locally with members) on Sept. 19-23 found Golden State laundry operators recovering but by no means free of COVID-19 challenges. Already operating in a difficult state regulatory environment, the TRSA visitors and California members learned about new rules – those under review or slated for implementation – that would add to the burdens confronting businesses, including the linen, uniform and facility services industry.
At roundtable discussions in Los Angeles and Sacramento, TRSA advocacy executives warned that protecting the industry's interests must remain a high priority. Gov. Gavin Newsom (D) and new state legislators are expected to increase the regulatory burden on businesses to solve environmental problems. Given the state government's willingness to target the industry with new laws, TRSA will likely need to act again as it has in the past to stop or limit several potentially onerous new rules.
In his presentation to the Los Angeles roundtable on Sept. 20., R.J. Fernandez, TRSA's Sacramento representative, said he anticipates a hike in regulatory activity. Fernandez said that the failed recall of Gov. Newsom didn't represent an endorsement by voters of the governor's performance. Instead, it was more of a rejection of the leading candidate to succeed Newsom, radio personality Larry Elder, who aligns closely with President Donald Trump (R).
Next on the political horizon, Fernandez said, is the wholesale replacement of representatives in the state House and Senate. He predicted that over the next two election cycles, 95% of representatives will be freshmen or sophomores in office. Legislators who want to saddle businesses with a greater share of the cost of environmental protection and other initiatives are already in the majority. They stand to increase their ranks with new legislators.
"Now is an opportune time" to prevent the emergence of a wider majority, Fernandez said. "If not, we will have to live with this regime for a while."
Regarding discharges of microfiber from textiles, he reported an "ongoing conversation" in Sacramento to blame linen, uniform and facility services in part for excess microfibers in oceans and rivers. Already, three iterations of legislation have called for the installation of after-market filtration systems to capture 100% of shedding from textiles. TRSA has stopped these efforts in the past three years through meetings with legislators to educate them on the industry and its employees.
"Can we continue batting a thousand on this? I don't know. But it will be really tough because environmentalists have a lot of sway," he said. One possible angle: industry-led language to codify existing best practices with which most members are already complying. Environmentalists would see that as a victory, he said.
Another set of environmental initiatives involve discharges of per- and polyfluoroalkyl substances (PFAS). These man-made chemicals are present in many substances, but industrial dischargers to sewers such as large laundries are seen as high-volume contributors to PFAS' escape into the environment. All 2021 PFAS legislation so far has stalled, but it could come back, threatening to empower the state Water Resources Control Board to visit laundries and mandate controls on their discharges.
Proposals to impose restrictions on water use are also expected. The call for such a mandate didn't occur before the Newsom recall but is now more likely. Fernandez sees the possibility of a 15% restriction across-the-board with industrial users. The idea previously had surfaced, prompting large agricultural interests to sue the state government in federal court for denying water rights. It's believed that state legislators could revisit the issue by putting the onus on water districts to cut their use. They, in turn, will pass the burden of restriction upstream to industrial users.
As for route operations, soon-to-be-enacted rules from the state air-resources board will press laundries to add emission-free (electric) vehicles to their fleets. It's anticipated that by 2025, 10% of laundry vehicles will need to meet this standard; the figure rises to 25% by 2028 and 50% by 2031. Requirements for larger vehicles will take effect more slowly (10% by 2030). Fernandez reported that formal adoption of these rules is imminent and "then it will be a set regulation with a pretty significant impact." Separately, the air- resources board will educate fleet operators on publicly supported incentives to invest in these vehicles. Utilities will provide incentives to install charging infrastructure.
Another certainty, he said, is the Jan. 1 rollout of a new law prohibiting the use of piece-rate pay by any business related to garments, not just their manufacturers. This measure would allow employees to sue any subcontractor working with a manufacturer who pays by the piece. Such actions would then constitute wage-and-hour law violations.
Fernandez also covered anticipated proposals that would affect employers in various businesses and would likely apply to linen, uniform and facility services, such as supplemental paid sick- and family- medical leave measures and vaccine-mandate bills.
In his Sept. 23 presentation at the Sacramento roundtable, Kevin Schwalb, TRSA's government relations VP, outlined pending California-specific activities, as well as developments on the federal level. He gave a similar summary three days earlier at the TRSA roundtable in Los Angeles. Among other subjects during these presentations, Schwalb clarified the federal EPA stances on PFAS and microplastics. He also noted OSHA's vaccine initiative and gave an overview on the gridlock that's preventing the enactment of a bipartisan infrastructure investment bill. In essence, partisan lawmakers are using the infrastructure bill as leverage to advance the larger federal budget reconciliation bill.