GOP House Leader Tours Alsco in Spokane, WA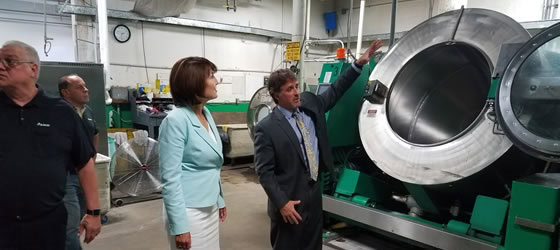 Alsco/Spokane GM Joey Kink explains the workings of a washer/extractor to U.S. Rep. Cathy McMorris Rodgers during her recent tour of the plant.
Continuing TRSA's successful congressional outreach, U.S. Rep. Cathy McMorris Rodgers (R-WA) recently visited the Alsco plant in Spokane, WA. Rep. McMorris Rodgers is part of the House Leadership Team. She serves as the Republican Conference Chair, which oversees the organization of all Republican members of the House.
The Republican Conference is the organizational body for all GOP Members of the U.S. House of Representatives, the Conference is responsible for electing the House Republican leadership, approving GOP member committee assignments and developing a communications strategy.
TRSA coordinated the visit with Joey Kink, general manager of the plant, after working closely with the congresswoman in Washington, DC. Rep. Rodgers emphasized the importance of the industry getting involved in the public policy process and recognized TRSA efforts. "As the only organization representing the textile services industry, TRSA's efforts to reach out to congressional members is highly effective and important," Rodgers said of the association.
Kink gave Rep. McMorris Rodgers a personal tour of the facility, showing her the laundry process from soil sorting to delivery. The congresswoman also met and spoke with Alsco staff on the laundry floor. Rep. McMorris Rodgers was impressed with the facility, and increased her knowledge of the linen, uniform and facility services industry.