HandCraft – Growing and Changing with Healthcare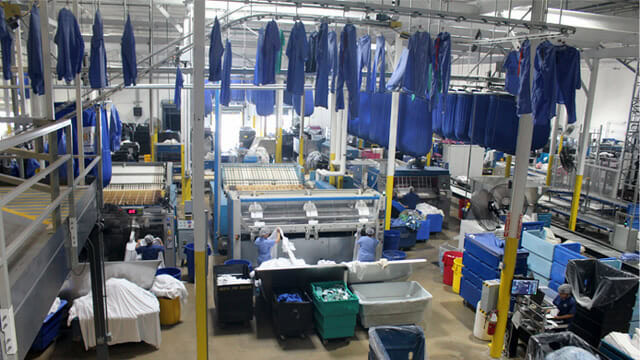 Textile Services Weekly recently visited HandCraft Services Inc. in Richmond, VA, where we interviewed President Keith Nichols and toured the company's outpatient medical plant. Readers of the Weekly who also receive the monthly Textile Services magazine can look forward to a longer article on the plant and HandCraft's growth plans for 2020 and beyond.
Below are highlights of our discussion of key issues facing the company as well as healthcare operators across North America.
First, HandCraft, a regional healthcare operator serving the Southeast U.S. with dry cleaning and healthcare commercial laundering services since 1970, is currently experiencing significant growth, particularly on the outpatient medical side of its business. "The retail medical business from 2015 – now on average has grown about 18.5% per year," Nichols said. "We had no idea it was going to grow that fast."
To better serve both the hospital and outpatient markets, HandCraft runs these two operations separately. In Richmond, for example, the 60,000-square-foot outpatient plant (5,574 square meters) processes roughly 240,000 lbs. (108,862 kg) per week. Across the parking lot is a similar-sized building that's dedicated to HandCraft's hospital accounts.
Technology, including more outpatient services for medical procedures such as knee replacements, is driving the growth in outpatient care, Nichols said. Typically, when HandCraft gets a new hospital customer, it also acquires a number of related outpatient facilities as well, such as doctor's offices and clinics. "When you take a hospital on, nine times out of 10, you're getting all the out-patient (facilities) that come with it," he says. "It hasn't always been like that, but these days that's how it goes.'
Nichols added that the company's salespeople do bring in individual surgicenters, clinic and nonhealthcare-related spa and athletic club business as well. Meanwhile the hospital business has grown too, just not as quickly as the outpatient segment.
The growing demand for its services has put HandCraft on a path to expansion in recent years. For example, in August, the company announced it had acquired a 53,000-square-foot plant in Manassas, VA, from Crothall Healthcare.
HandCraft also is expanding in North Carolina where in April it began construction of a new 82,750-square-foot (6,990-square-meter) plant in High Point that will focus on hospital work. "That's running," he says. "It's been running for two or three weeks now." HandCraft officials are planning an open house later this fall to showcase the new facility for customers and guests, he added.
Speaking of healthcare customers, their demands for both quality and cost-control are as omnipresent as ever, Nichols said. However, their emphasis on ensuring infection control is stronger today than it was in the recent past. For example, customer plant tours have increased, and infection-control professionals now routinely participate in such visits, he said. "Even five years ago, it was hard to get some of these hospitals to take the time to see your plant," Nichols said. "The amount of people attending those tours has increased significantly. Now we always have an infection-prevention nurse or director or team on that tour."
Nichols said he welcomes the tours, adding that the questions that come from infection-control people help make HandCraft a better company. HandCraft's two Richmond plants also are both certified to TRSA's Hygienically Clean standard. The plan is to certify the company's new plants as well. Healthcare providers appreciate the stringent requirements that Hygienically Clean imposes on healthcare and other operators to certify their facilities, including quarterly testing of textile goods for harmful microorganisms. "Hygienically clean has got teeth in it," he said. "You've got to pass these tests."
Watch for more on HandCraft in November's Textile Services. Click here and here for more on HandCraft's new High Point and Manassas plants.