Healthcare Alert: Best Practices to Contain Coronavirus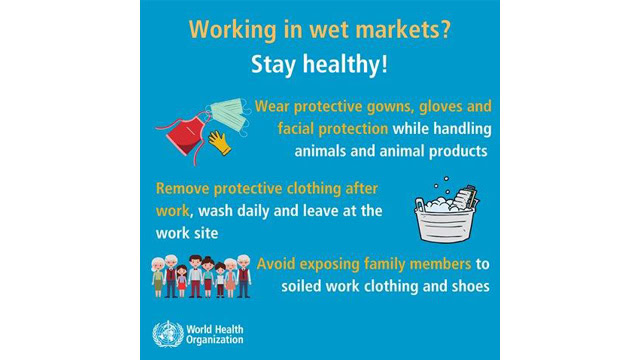 The Centers for Disease Control and Prevention (CDC) is closely monitoring and collaborating with the World Health Organization (WHO), on an outbreak caused by a new coronavirus first identified in Wuhan, Hubei Province, China. With cases on the rise worldwide, it's imperative for healthcare laundries to maintain best practices in laundering textile goods.
The CDC recommends using standard precautions for handling and laundering healthcare textiles, and adhering to federal and state requirements for the protection of healthcare personnel from exposure to pathogens. Practicing proper hand hygiene is imperative for laundry employees. Washing your hands often with soap and water is one of the best ways to avoid transmission of emerging pathogens. If soap and water aren't available, use an alcohol-based hand sanitizer. The Food and Drug Administration regulates claims on both medicated, antimicrobial soaps and on alcohol-based hand sanitizers.
Employers should select appropriate personal protective equipment (PPE) and provide it to workers in accordance with OSHA's PPE standards (29 CFR 1910 Subpart I). Workers must receive training and demonstrate an understanding of when to use PPE; what PPE is necessary; how to properly don, use and doff PPE; how to properly dispose of or disinfect and maintain PPE; and the limitations of PPE. Any reusable PPE, such as gowns, must be properly cleaned, decontaminated, and maintained after and between uses.
TRSA member Ecotex Healthcare Linen Service, based near Vancouver, Canada, provides linens to a major academic hospital in Toronto that has the largest trauma center in Canada. This hospital has two confirmed cases of the new coronavirus. "In these days of coronavirus, SARS, H1N1, Ebola and other strange, potentially wide-spreading viruses, you can see we're in a much more globally connected world, so infection control and delivery, patient care and quality assurance requires a lot of expertise," said Randy Bartsch, CEO, Ecotex. "It's easier for hospitals to focus on the delivery of actual patient care and allow other companies that specialize in different aspects of nonclinical support services, including us in the laundry area, to deliver hygienically clean processed linen."
Ecotex agreed to use extra precautions when handling linen potentially contaminated with the coronavirus. "We discussed it with the hospital the day they had accepted the first suspected patient and we mutually agreed, we will double bag it but otherwise treat it like any other linen with infectious material, treating everything with universal precautions," said Scott Wakeman, vice president, Ecotex. "Because that's what we do. The double bagging is really a precaution when it's in transit. Once it gets here to the laundry, everybody's in PPE. But at the hospital and in transit, folks handling the sealed soil linen bags aren't necessarily in PPE and that sort of thing. Until more is understood about the transmission, we just concluded that it was a reasonable measure to take."
Chinese authorities identified the new coronavirus (2019-nCoV), which has resulted in thousands of confirmed cases in China, including cases outside Wuhan, and in a growing number of countries. Officials announced the first U.S. case on Jan. 21, and four other confirmed infections since then. Investigations are ongoing, but some degree of person-to-person spread of 2019-nCoV is occurring in China. More cases are likely to be identified in the coming days, including more cases in the U.S.
Human coronaviruses are common throughout the world. Human coronaviruses commonly cause mild to moderate illness. Two newer human coronaviruses, MERS-CoV and SARS-CoV, have been known to cause severe illness. This new coronavirus, 2019-nCoV, has resulted in more than 100 reported deaths. The recently emerged 2019-nCoV is not the same as the coronavirus that causes Middle East Respiratory Syndrome (MERS) or the coronavirus that causes Severe Acute Respiratory Syndrome (SARS). However, genetic analyses suggest this virus emerged from a virus related to SARS. Limited information is available at this time. This is a rapidly evolving situation and information will be updated as it becomes available. For more information, click here.
If you have a question, contact Angela Freeman, the staff liaison for TRSA's Healthcare Committee, at afreeman@trsa.org. For information on best practices for laundering Hygienically Clean textiles, visit www.hygienicallyclean.org.