Healthcare Conference: Latest Trends, Regs and More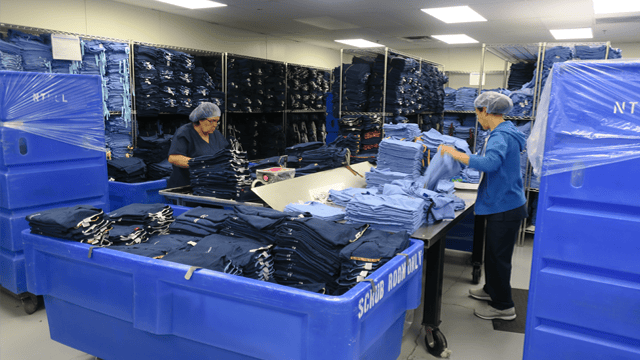 TRSA held its 10th Annual Healthcare Conference from Nov. 17-18 at the Renaissance Dallas at Plano Legacy West Hotel in Texas. Roughly 125 linen, uniform and facility services executives attended the event to learn about the latest in cutting-edge trends in healthcare, plus regulatory changes impacting the industry. They also reviewed developments in certification programs and networked with other high-level executives serving the healthcare sector.
The first day of the Healthcare Conference kicked off with a keynote address by healthcare futurist Michael Rogers, titled What Comes after COVID? Rogers discussed trends in the healthcare market space as well as the impact that COVID-19 has had on the healthcare industry and how the sector will continue to grow and adapt moving forward.
Panel discussions included a presentation titled Pandemic Panel Discussion: What We've Learned So Far featuring Tor Lund, CEO, MIP Inc.; David Potack, president, Unitex; Dan Sanchez, VP of national accounts, Medline Industries Inc.; and Kelsey Van Miert, president – customer relations, Northwest Health Care Linen. The panel was moderated by Liz Remillong, vice president at Crothall Laundry Services. A closing panel featuring Paul Pearce, CEO, Nova Biologicals; John Scherberger, principal, Healthcare Risk Mitigation; and Lynne Sehulster, health scientist, Environmental Infection Prevention LLC tackled the topic of Healthcare Personnel Attire (HPA), Laundry & Linen Management in a Post-COVID-19 Environment.
Breakout sessions included the following topics:
Stability of Coronaviruses on Textiles: Are Healthcare Textiles a COVID-19 Infection Control Risk?
TRSA Long-Term Care Project Update
Peer-to-Peer Roundtable Discussion: Diversity, Equity & Inclusion
TRSA 2021 Healthcare Benchmarking Report
Rounding out the first day's topics was a presentation by Yes& regarding its consumer and business-to-business (B2B) audience research findings for reusable healthcare textiles, as well as a lunchtime presentation by TRSA's Vice President of Government Relations Kevin Schwalb. He discussed OSHA's COVID-19 Emergency Temporary Standard (ETS) and other issues impacting the industry.
The final day of the conference opened with a panel titled Emergency Preparedness: Lessons from the 2021 Texas "Big Freeze." The panel featured Alan Bonds, general manager, North Texas Health Care Laundry, Grand Prairie, TX; and Patrick Garcia, president, Division Laundry & Cleaners Inc., San Antonio. Following the panel discussion, conference attendees boarded buses for a tour of the North Texas Healthcare Laundry facility located roughly 30 minutes southwest of the hotel in Grand Prairie, TX.
The in-person meeting was held in conjunction with TRSA's Fourth Annual Marketing & Sales Summit that took place on Nov. 16. Additionally, TRSA held several meetings for healthcare executives prior to the start of the Healthcare Conference. The meetings included the Hygienically Clean Healthcare Advisory Board Meeting, the Hygienically Clean Healthcare Users Group Meeting, as well as a CEO/Executive Roundtable for healthcare operators and supplier partners serving this market sector.
Thanks to the following supplier partners for sponsoring TRSA's 10th Annual Healthcare Conference: Kannegiesser ETECH, JENSEN, Lavatec, Pellerin Milnor, Lac Mac and Miura.