Healthcare Conference – Measured Mgmt. Focus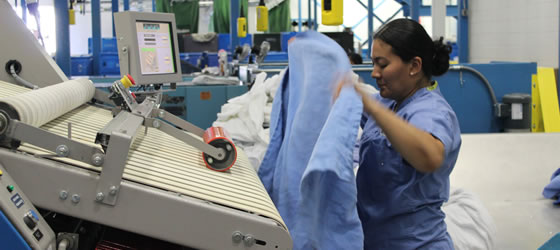 Register for the Healthcare Conference
Tours of Unitex Textile Rental Services' laundries in New Jersey will highlight the agenda for TRSA's upcoming Healthcare Conference, enhancing the annual event's value in guiding attendees toward achieving industry-leading productivity in processing.
The conference is slated for Nov. 17-18 in New Brunswick, NJ, where Unitex has separate bulk and garment operations under one roof.
Based in Mount Vernon, NY, Unitex serves medical providers in that state as well as New Jersey, Connecticut and Massachusetts, Unitex is recognized as the fastest-growing U.S. launderer that is 100% dedicated to healthcare. The company attributes its growth primarily to organizationwide dedication to measurement and consistency, ensuring that strong engineering pays back an equally healthy return on investment.
Conference participants will view workflow in each plant that proceeds smoothly, thanks to efficient layout with proper capacity at each stage of processing, as well as two daily maintenance shifts, with production working one 10-hour shift seven days a week.
These visits, as well as sessions at the conference previewing the tours and wrapping them up, will address a wide variety of issues in productivity of plant processing. A Unitex-led plant design/layout discussion will take place the day before the tours. A debrief will follow immediately. Much of the rest of the agenda is dedicated to marketing and service discussions.
In Unitex' 60,000-square-foot bulk laundry, where the company's characteristic extensive use of ceiling height ("the cube") makes a large plant seem smaller, Unitex staff will show visitors how:
Energy use is roughly 40% of a typical healthcare laundry
Reject percentage is low
Soil sorting isn't interrupted when bags fill and depart
Flow of new goods and rewash into mainline production is minimally disruptive
Employee personal hygiene and well-being are given high priority
In the 40,000-square-foot garment plant, which operates more like an industrial laundry than a linen-supply operation, the Unitex team will demonstrate how:
Tunnel washing processes a wide variety of garment fabrics and colors
High speed is achieved with the highest-quality finish
Automated sorting drives high-efficiency bundling of folded, packed or hung garments—personalized and bulk
Specials, additions and replacements blend smoothly into route/account makeup
Chief among conference sessions will be the keynote by Thomas Royer, MD, the architect of CHRISTUS Health, one of North America's leading Catholic hospital/healthcare systems. He'll explain the urgent need for all healthcare-related organizations to transform in light of the Affordable Care Act and other market forces, including specific implications for the laundry industry, such as possible new growth venues.
Panel discussions will feature speakers from the industry examining:
Executive strategic planning perspectives
Innovative product developments
Innovative services strategies
Other general and breakout session topics will cover:
Fitting a laundry business into the new healthcare model
How laundries cope when customers re-affiliate
How TRSA promotes Hygienically Clean certification to healthcare professionals
New TRSA video guiding healthcare workers on handling soiled linen
Radio frequency (RF) ID technology for linen
Conference sessions begin at 7 a.m., Nov. 17, at the host hotel for the event, the Hilton Hotel and Executive Center in East Brunswick. These continue until 4:30 p.m., followed by a reception. The Unitex tours take place the following morning with activity returning to the hotel for the debrief and the executive panel discussion, which ends before lunch. Click here to register, or for more information.