Healthcare & COVID-19: The Good, the Bad and the Awful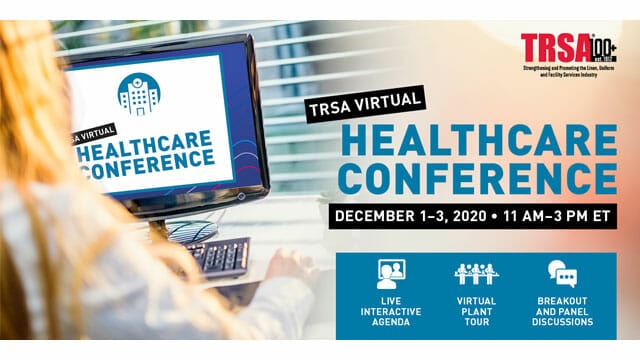 The first day of TRSA's Virtual Healthcare Conference featured a two-hour, CEO/Executive Roundtable session that drew 30-plus healthcare laundry professionals from across North America for a lively discussion of industry issues, particularly the ongoing impact of the COVID-19 pandemic.
"We were delighted by the turnout and the quality of discussion that this session generated," said TRSA President and CEO Joseph Ricci, who facilitated the Dec. 1 online gathering that was jointly sponsored by Kannegiesser ETECH and the Laundry Design Group LLC. "This roundtable gave leading independent, regional and national healthcare laundry executives a chance to compare notes on the pandemic and how the industry can move forward in the coming months."
With COVID-19 cases now in a full-fledged "second wave" much of the discussion centered on how healthcare providers – and by extension laundries – are managing the rising influx of coronavirus patients. While the COVID-19 resurgence has raised anxiety levels among hospital staff, the laundry operators said their customers – so far – are faring better than in the first wave that hit in April/May/June. For example, laundry operators have helped alleviate the shortages of personal protective equipment (PPE) that occurred in the first wave by supplying hospitals with more reusable isolation gowns. One laundry operator said their company is buying isolation gowns by the pallet to keep hospitals supplied. "As long as they're getting what they want and it's hygienically clean, everybody seems to be doing pretty well right now, at least on the laundry side of things."
Another operator pointed out that the PPE shortages that occurred earlier this year could create an opportunity for a long-term conversion of hospitals to reusable isolation gowns, vs. the disposable variety that predominated prior to the pandemic. Reusable gowns are not only more cost-effective, but their reusability also provides a more sustainable, reliable supply chain.  "It's just incredible. We're sure of being there with a product. Once we get a client on base. We create the supply chain." He added that the industry needs to do more to market these advantages in order to grow market share for reusables.
A separate opportunity that could arise from the pandemic is outsourcing laundry services for long-term care facilities. With wages rising and a $15-an-hour minimum rate spreading to more jurisdictions, cost and hygiene concerns are pushing nursing homes to outsource their laundry operations. "There are funding, staffing and cleanliness crises in long-term care," a roundtable attendee said, citing a recent study. He called long-term care an "area of opportunity." During the conference, TRSA announced a second campaign built on the success of a 2019 effort, to educate long-term care operators about the improved hygiene and cost-effectiveness of outsourcing laundry services launching in March 2021.
Unfortunately, laundries also face rising labor costs, as well as shortages – despite a relatively high 6.9% unemployment rate. Several operators, including executives from U.S. and Canadian companies, cited recruitment and retention issues as key challenges. Several attendees said the extra communications associated with the pandemic has boosted staff engagement reducing absenteeism and turnover. One operator noted that some production staff have left the industry to care for children or elderly family members. The ease of access to unemployment benefits  –  along with safety concerns about healthcare – has made it harder to place people in jobs in healthcare laundries as well as hospitals.
Those companies operating mixed plants – especially those with food and beverage (F&B) accounts –  also must deal with dramatically lower volume from their restaurant customers. This has led to excess capacity and renewed layoffs related to the latest round of government shutdowns, an operator said. The crisis in F&B is making it harder to plan for a post-pandemic business environment. "When this thing ends everything's going to open up and there's going to be a lot of new businesses besides the businesses we lost," an operator said, citing the need to have sales staff ready to hit the ground running when restaurants begin to reopen.
Despite these hurdles, most operators noted that their production in both acute care and outpatient services has mostly recovered to pre-COVID levels and there are significantly opportunities for growth from expanded products and services. Laundry building and investment plans also are moving forward. During the roundtable session, operators confirmed that at least half a dozen laundry-construction projects are in the works, including one company that's expecting to open a new plant within days. Most operators said they're bullish on the long-term prospects for healthcare laundering, particularly on the outpatient side. "There's plenty of room to service the ambulatory market across the country," one operator said. "It's everywhere. I think we're in good shape. We'll survive this."
While the roundtable attendees showed a spirit of resilience, several did voice their concerns when Ricci asked, "What keeps you up at night?" A major fear is that a wave of COVID-19 infections could hit their staffs and/or key employees. "A pandemic inside of a plant would be catastrophic," one operator said. "It could keep us all up at night." While several companies said they'd had sporadic cases of COVID-19 infections in their plants, one said that early on, the virus struck his operation and temporarily idled 40-plus employees.
Other issues that operators cited include staff fatigue. Many employees are working overtime due to personnel shortages, coupled with strong demand for items such as reusable isolation gowns. In addition, government shutdowns have limited the ability of employees to engage in normal activities with friends and family. "We just came off a Thanksgiving holiday where it was different for everyone," one operator said. "Employee fatigue is a big one. That's keeping me up a bit right now."
The biggest worry that the roundtable attendees identified was the need to safeguard the health of their employees amid the COVID-19 crisis. Social distancing and PPE help, but the risk of infection remains. "What keeps you up at night is all about people," an operator said. "Everything else matters, but people matter the most."
Attendees at the roundtable, which was followed by an online welcome reception, included:
Jim Kearns, Alsco Inc.
Bob Brill, American Textile Maintenance
Brad Shames, American Textile Maintenance
Brad Goldstrom, Ameritex Services
Brian Kradjian, Bates Troy Inc.
Pierre Ferron, Buanderie Blanchelle Inc.
Michael Shulevitz, Cadillac Uniform & Linen Supply Inc.
Chad Poeppelmeier, Cintas Corp.
Bob Friedman, CleanCare
Woody Ostrow, CleanCare
Mikel Barner, Crothall Laundry Services
Liz Remillong, Crothall Laundry Services
Brian Polatsek, EcoBrite Linen
Bruce Feldman, Economy Linen & Towel Service Inc.
Jason Feldman, Economy Linen & Towel Service Inc.
Randy Bartsch, Ecotex Healthcare Laundry Services
Keith Luneburg, FDR Services Corp.
Mark Foley, Foley Services Inc.
Jeff Berstein, ImageFIRST
Phil Hart, Kannegiesser ETECH
Bob Corfield, Laundry Design Group LLC
Jesse Jassny, MediCleanse Linen Service
Alden Senior, Morgan Services Inc.
Jack Phillips, Nixon Medical
Jason Berstein, Nixon Medical
David Stern, NOVO Health Services
Kelsey Van Miert, Northwest Health Care Linen
Michael Potack, Unitex Healthcare Laundry Services
David Potack, Unitex Healthcare Laundry Services
Mark Carter, Up To Date Laundry Inc.