Healthcare Exec Roundtable a Major Draw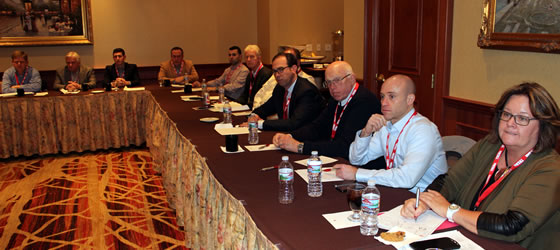 Nearly 25 CEOs and senior executives from North America's largest healthcare linen, uniform and facility services companies participated in a roundtable during the recent TRSA Healthcare Conference in Salt Lake City. Facilitated by TRSA President & CEO Joseph Ricci, the CEOs, representing organizations responsible for processing more than 70% of healthcare linens, scrubs, uniforms, garments and other reusable textiles, discussed issues and trends including:
Processing hygienically clean healthcare textiles (HCTs) and infection control
Improving crisis/disaster planning and response
Opportunities to grow the market including long-term care facilities
Competition from OPLs and nonprofit laundries
Consolidation of the healthcare sector
Reflecting on media attention questioning laundry cleanliness and natural disasters across the country, TRSA Chair David Potack, Unitex, emphasized that "It is important to develop relationships and plans before a crisis. The process begins with a discussion of self-assessment and contingency planning, including identifying stakeholders and communications."
"There is a growing gap between purchasing and customer service," said TRSA Healthcare Committee Chair Liz Remillong, Crothall. "Healthcare consolidation is forcing vendors to increasingly negotiate and contract with purchasing departments often removed from daily operations, creating confusion between customer requirements and expectations and contract stipulations. It is our job to educate and bridge this gap."
The CEOs also discussed the importance of managing linen and minimizing its loss from theft and abuse, as well as recapturing market share of reusable textiles lost to disposables, particularly incontinent pads, barrier gowns and surgical scrubs. To recover, reusables' value can be leveraged based on life-cycle assessments measuring environmental impact, waste reduction and costs.
"We must take every opportunity to proactively communicate with and educate our customers," said Randy Bartsch of Ecotex Healthcare Linen Service, who chairs the Advisory Board for Hygienically Clean laundry certification. Linen, uniform and facility services operators are well versed in "infection prevention and other issues related to our proven laundering processes, safety and certifications," Bartsch noted, with environmental services and nursing staff among primary targets for such communication.
CEOs/Executives participating in the Nov. 13 roundtable included
Randy Bartsch, Ecotex Healthcare Linen Service, Seattle-Tacoma
Bob Brill and Greg Shames, Medico Linen Service, Los Angeles
Brad Goldstrom, Ameritex Services, Omaha, NE
Christian Luneburg and Ron Seaman, Florida Linen Services, Pompano Beach, FL
Karl Fillip, NOVO Health Services, Atlanta
Ben Fox, Alsco Inc., Salt Lake City
Ed Hazard, Kleen Laundry, Lebanon, NH
Tim Higdon, Faultless Healthcare Linen, Kansas City, MO
Jesse Jassny, MediCleanse Linen Service, Seattle-Renton
Leonard McCullough, Linen King, Tulsa, OK
Tim Montague, Foussard Montague Associates, St. Paul, MN
Brain Polatsek, EcoBrite Linen, Skokie, IL
David Potack and Michael Potack, Unitex, Elmsford, NY
Judy Reino, Reino Linen Service, Gibsonburg, OH
Liz Remillong, Crothall Healthcare, Chesterbrook, PA
John Shoemaker, General Linen & Uniform Service, Detroit
David Stern, Paris Cos., DuBois, PA
Cary Wood, Angelica Corp., Oakbrook Terrace, IL