Healthcare, Industrial Operators: New World Challenges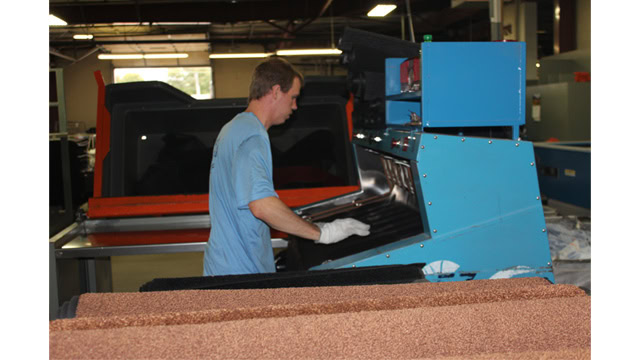 As the COVID-19 crisis took hold last month, laundry operators in various sectors of the linen, uniform and facility services industry responded quickly and effectively to an array of challenges as they sought to continue operations, while protecting employees and customers in a business environment that had turned upside-down – practically overnight. Below are brief profiles of companies in the healthcare and industrial sectors. A second article in this edition of Textile Services Weekly will address the impact of COVID-19 on the hospitality and food-and-beverage operators.
Healthcare – Evolutionary Shifts
With the coronavirus spreading and business above normal, Randy Bartsch, CEO of Ecotex Healthcare Linen Service, based in Vancouver, Canada, had to make sense of the sudden drop in business. His company services hospitals and other healthcare facilities across Canada, the northwest United States, New Mexico, Oklahoma, Texas and Iowa.
"Normally we process about 1,250 tons (1,136 metric tons) of products for 400 hospitals and healthcare facilities in Canada and the United States," he said in late March. "The first two days of last week (March 16 and 17), we were about 5% above normal. We knew it was because of demand caused by the coronavirus. Then on Wednesday that week, we were back at normal levels, but Thursday and Friday, our production volumes collapsed."
The reason for the change soon became clear. "We work on a 24-hour product turn," he says. "So when the soiled linen supply dries up, our production numbers decrease. The plant was running along but then suddenly, we were done early. No more soiled linen to process. It didn't take long for us to figure out there was a surge in discharges from the hospitals. As plans to handle the pandemic were rolled out, all elective surgeries and the need to be in the hospitals were called off."
Bartsch said he expected the volume to remain below its normal level for the next several weeks and then start a slow rise as coronavirus cases surge in various regions of the country. "I am cautious, but we may see a rise greater than the decrease because of the demand by the hospitals," he said. "We are also seeing the mix of products change. Some items are needed more, and others, less. In most large hospitals we serve, we now have a policy to process the high-use items twice a day instead of just once. But we also have the need to keep our workers healthy. We have made some changes to the way we work. If we don't keep our people healthy, we can't serve the people that need our service."
Longer term, especially with the economy, Bartsch has concerns. "There will be winners and losers," he said. "Both our hospital customers as well as the support service vendors like laundries." Adding, "Hospitals rely in large part on elective surgeries to make money. When will anyone feel comfortable about having elective surgery? I expect there to be a contraction in the healthcare trade. Likely fewer in-patient facilities. I'm especially fearful for the rural healthcare facilities, the small hospitals and the people they serve. This could be catastrophic for smaller communities, smaller businesses, smaller laundries.
"But I also see a much greater opportunity to change the way we do things," Bartsch said. "It'll take a while to get sorted out, but the old model may have to change. I see longer-term impacts on the healthcare business. We believe overall there will be a rebound in business, not just our business, but business in general, but will it last? Who knows? We will get back to a good place. Maybe not the norm we knew before the virus hit, but some good place. And, it may take months or a year or two to get back, but we will be back."
Industrial – Diverse Customer Cushion
Bob Dudley's family has been in the laundry business since 1916 when his great grandfather started Dudley Laundry. Today the company is known as Appeara, and Bob is its fourth-generation president.
Based in Norfolk, NE, Appeara's customer service area extends from its plant in northeast Nebraska to southeast South Dakota, northwest Iowa and southwest Minnesota. Some of his trucks cover 200 miles a day.
Appeara is a diversified laundry business that serves a population of about one-tenth the size of the market covered by White Plains Linen. Dudley says the hospitality trade makes up for about one-third of his business, while industrial customers account for the other two-thirds.
In hospitality, Dudley includes surgical centers and medical offices (no hospitals). In the industrial area, he has dust control. He also sells janitorial supplies. While the COVID-19 isn't selective in where it hits and what it does to businesses when it arrives, Appeara, as of mid-March, was weathering the storm.
"This is a big time of year for the food processors in our area and for the farms and for the related industrial business," Dudley said. "The food processors are killing it right now as are the pork producers, the pet food manufacturers, the ice cream plants, the soy producers, the chicken plants and processors and the egg producers.
"We have a (computer) chip manufacturer and a transistor producer adding employees to clean more often, around the clock, so they are adding cleaning towels and micro-wipes to their orders," he reported. "Yes, our dust control is down in restaurants, and we'll probably not process a tablecloth or napkin for weeks to come, but as of this week, we have not laid off anyone, and we actually have an opening for a customer service rep."
While cautiously optimistic in mid-March, Dudley looks ahead with eyes wide open. "Will I be down a route at some time? Probably? When? I don't know. The biggest revenue week we've had will probably not return for a while, if ever. The mom-and-pop restaurants that we serve will probably not return," he said.
"Thank goodness," said Dudley, "we have a good industrial business, a good industrial base, and our janitorial supplies – especially disinfectants, hand sanitizers and toilet paper – are in demand."