Healthcare Laundries: Lower Costs, Innovate to Survive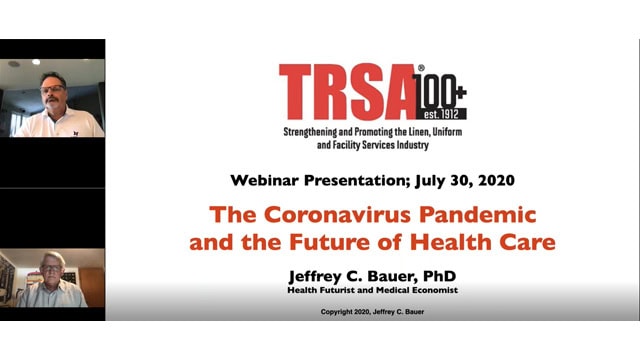 COVID-19 is fueling a reinvention of the healthcare delivery system in North America. As laundry operators, your challenge is to work with C-suite healthcare executives to help them navigate this new world. Otherwise, your company could sink along with its hospital customers.
That was the blunt assessment delivered by Jeffrey Bauer, Ph.D., a healthcare futurist and medical economist who addressed 70-plus online attendees during a one-hour TRSA webinar on July 30. Randy Bartsch, CEO, Ecotex Healthcare Linen Service, a regional operator based in Vancouver, British Columbia, with a total of seven laundries in Canada and the U.S., moderated the webinar.
Bauer, who will also give the keynote address at the upcoming TRSA Virtual Healthcare Conference on Dec. 1-3, emphasized that his analysis isn't entirely negative. There can and will be opportunities for outsource healthcare textile providers in this new landscape. However, the bottom line – especially with yearly adjusted gross domestic product recently reported as down 32.9% – is that governments aren't likely to bail out healthcare providers. That means your ability to help them control costs could save your company (and theirs). "There's not going to be any more money for healthcare," said Bauer, who previously addressed TRSA Healthcare Conferences in 2012 and 2013. "I feel very comfortable stating that."
The key for launderers is to partner with healthcare leaders – not only on cost control but also in providing innovative services as they move to new models, such as home-based care, telemedicine, wider use of less costly reusable personal protective equipment (PPE) and more. While not stated explicitly, laundry operators that can control their own production costs also will have an advantage in the post-COVID-19 world. "We're going to have to look for the least-expensive way to do things," said Bauer. "And we've got to do it with our (healthcare) business partner. Because you, the experts in textiles, know something that people in the C-suite don't know. So, when I'm speaking with them, I'm telling them: Go out and deal with the people in the supply chain, bring them to the table. I'm telling them they should bring you to the table." Bauer emphasized, "If you're not at the table, you're on the menu."
Bauer, a prolific author and speaker who said he spends 80% of his lecture time talking to healthcare CEOs and top executives, described the COVID-19 pandemic as a "100-year storm." The virus is rearranging the healthcare landscape. He acknowledged that the pandemic has "muddied" his own "crystal ball," but he didn't hesitate to lay out where he sees key trends moving. Specifically, he predicted:
Healthcare spending is going to decline, but he's not sure how much.
Regional markets will evolve away from a "one-size fits all" model. This trend was happening pre-COVID-19, as individual markets had begun to adapt to new technologies and care models for improved efficiency and quality.
A shift away from "fee for service" plans, with healthcare providers coming up with "bundled" packages of care.
Healthcare providers likely will increase the role of partner professionals, such as nurse practitioners, certified midwives, psychologists, physical therapists, clinical pharmacists and others to take a more direct role in providing healthcare services. "That's really where the future lies," Bauer said, adding that laundry operators need to look for ways to participate in this shift. "I really think there are going to be some textile rental opportunities there."
Polarized policymaking: Given the political ill will now predominant in Washington, Bauer said he doesn't expect lawmakers to deliver any solutions in the near term, especially given the current fiscal environment. "You read the same newspapers I do," he said. "It's a mess."
Action could happen at the state level. But these solutions will reflect the needs and demands of people in a given jurisdiction. Policy moves will vary, depending on the elected leaders in various states. Some will take an active role; others will say "Don't even try to get involved."
In closing, Bauer warned healthcare launderers to "Be prepared for surprises. I'm prepared for there to be surprises too." Laundry operators and healthcare partners must work together to deal with challenges on a local level. "I cannot stress enough to you that you've got to focus on the unique characteristics of your local market. Don't look to Washington; don't look to Ottawa. Things are going to really be different from place to place."
TRSA offers more than 100 industry-specific professional-development and training programs on a range of issues including emerging regulatory/compliance issues, safety, best practices and strategies for enhancing productivity. Go to www.trsa.org/ondemand to visit TRSA's On-Demand Learning Portal to view this webinar and more. Click here to learn more about TRSA's Virtual Healthcare Conference this Dec. 1-3.