Healthcare Laundry: Shifting Venues, Safety Spur Growth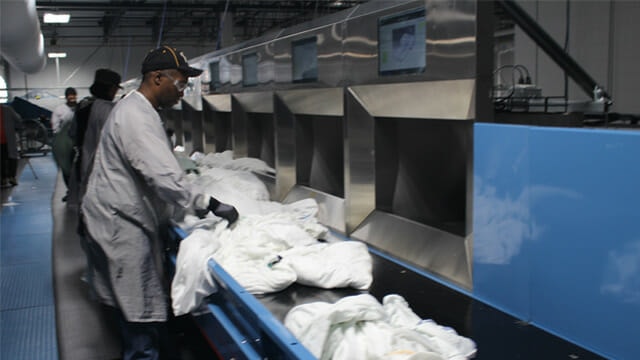 Editor's Note: This is the fourth in a series of articles from TRSA staff on the outlook for 2019 in various sectors of the linen, uniform and facility services industry.  
A patient's initial visit to a healthcare provider for treatment traditionally has taken place in the individual's primary care physician's office. Frequently if such a location outsources its linen, uniform and facility services, it's a small account for the service provider. Recent developments suggest that shifting healthcare consumer behavior could enable such providers to more effectively capitalize on reusable textile consumption resulting from patients' entry into the healthcare ecosystem.
A July 2018 Kaiser Family Foundation poll of 1,200 adults found that 26% said they don't have a primary care provider. Kaiser found such behavior varied sharply among age groups:
45% of 18- to 29-year-olds
28% of 30- to 49-year-olds
18% of 50- to 64-year-olds
12% age 65 and older
These findings echoed a 2017 study by the Robert Graham Center for Policy Studies in Family Medicine and Primary Care. It concluded that for more Americans, healthcare is provided at a place, not by a person, and the trend could be increasing the use of high-cost services.
It's long been known that younger patients aren't as tied to physicians as older ones. But the Robert Graham study noted an increase in the percentage of respondents with no usual source of care and a drop in the percentage with a person as a usual source of care. These changes are associated with excess emergency department visits and hospital admissions (better for linen and uniform service).
Urgent care centers, also larger customers of the industry, are benefiting as well. This $18-billion industry was expected to grow nearly 6% in 2018, according to the Urgent Care Association (UCA). These clinics handle about 89 million patient visits each year: nearly 30% of all U.S. primary care visits and 15% of all outpatient physician visits.
A 2015 PNC Healthcare consumer survey found that millennials (born 1981-'96) comprise about one quarter of visits to these facilities. In contrast, 11% of the senior citizen population goes first to an urgent care center, with 85% choosing primary care physicians first. The older segment is keeping primary care offices and emergency care departments busy, prompting other patients to turn to urgent care for faster, easier and lower-cost service.
Urgent care facilities' U.S. count grew from 6,946 in 2015 to 8,285 as of June 2018, UCA reported. Growth is more explosive in rural areas: comparing 2007 to 2017 with the prior 10-year period, insurance claims grew 2,308% there compared with 1,675% in urban areas, according to FAIR Health, a nonprofit that studies insurance claims.
The hospital business hasn't been so fortunate. The American Hospital Association notes that these facilities have been closing at a rate of about 30 a year. Morgan Stanley analysts examined data from 6,000 U.S. private and public hospitals in 2018, finding 8% at risk of closing and labeling another 10% "weak," based on profitability, occupancy and revenue. "At risk" facilities are those also in trouble with capital expenditures and efficiency.
Through 2019, the firm sees an increase in shutdowns over previous years. Mergers and acquisitions are partially responsible; so are insurers pressing patients toward lower-cost outpatient settings such as convenience clinics and surgicenters for treatments and procedures hospitals also provide. Any hospital with a negative margin is vulnerable. Smaller rural facilities are particularly shaky, as they lack leverage to negotiate favorable rates with managed care companies and they're saddled with older and poorer patients.
Revitalization strategies include restructuring hospitals as outpatient emergency clinics with free-standing emergency departments and developing "microhospitals" with 10 or fewer beds.
For linen and uniform service product marketing in 2019, research shows that upgrading physician clothing could represent a revenue-generating opportunity. Collaboration between the University of Michigan, Georgetown and Baylor universities assessed more than 4,000 patients receiving medical care in diverse academic medical centers. The May 2018 findings created the largest report ever of preferences regarding physician attire in the United States. More than half of survey participants indicated that how a physician dresses is important to them; over one in three stated that a doctor's choice of clothing influenced how happy they were with care received.
Clinical and contextual aspects influence how patients perceive professionalism. Doctors are expected to dress differently in hospitals as opposed to clinics, for example, or in emergency rooms as opposed to surgical suites. Responses varied noticeably by age, gender and education. Providers engaged in care of elderly patients (e.g., geriatric clinics, hospital settings or extended-care facilities) may consider donning formal attire more so than surgeons or emergency room physicians, where scrubs may be more important.
Hospitals in Southern regions of the United States may wish to endorse formal attire and white coats as their preferred policy. For providers in the emergency room and surgical arenas, such attire may in fact be viewed as out of place—and thus different rules might be necessary.
Privacy curtains are another likely hot product this year. Recent developments in the industry include laundries' greater use of radio frequency ID to track their inventory and the application of Clorox-brand technology to curtain fabric. These advancements come at a time when news is spreading regarding a University of Manitoba study on curtain hygiene published in September 2018 in the American Journal of Infection Control.
The research tracked the contamination rate of 10 freshly laundered privacy curtains in the Regional Burns/Plastics Unit of the Health Services Center in Winnipeg, Manitoba, Canada. Findings revealed freshly laundered patient hospital privacy curtains have minimal contamination when first hung. After hanging for 14 days, most curtains tested positive for MRSA. By day 21, almost all curtains exceeded 2.5 CFU/cm2.
The presence of MRSA (an antibiotic-resistant microorganism) and the number of colony forming units (CFUs) suggest that curtains are a source of cross-contamination in hospitals. Interventions to clean or routinely replace curtains are warranted about 14 days after the curtains are hung. The researchers called for further studies examining the relationship between curtain contamination and patient contamination.