Healthcare Roundtable: Labor Shortages, Supply-Chain Issues and More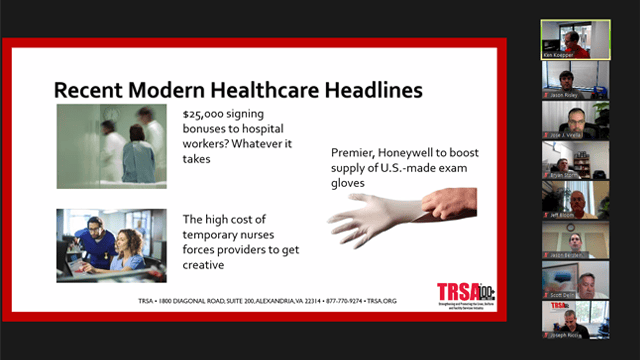 TRSA hosted a Virtual Healthcare Roundtable on July 28 for operators and supplier partners to discuss industry trends and current events affecting the global linen, uniform and facility services industry and TRSA members.
The meeting started with TRSA President & CEO Joseph Ricci offering greetings to the 40 attendees on the call. Ricci highlighted the 5000-plus mile TRSA Reopening Tour trips to the Southeast in April and the Midwest in June, before giving an overview of the roundtable's topics of discussion. These included a post-pandemic emphasis on cleanliness, the necessity for reusables like gowns and ongoing labor shortages.
Following Ricci's remarks, Ken Koepper, TRSA's director of membership and industry outreach, presented a slideshow of healthcare news stories. Headlines included $25,000 signing bonuses for some hospital workers and a global shortage of exam gloves. After discussing the articles, Koepper displayed tables of job titles and positions within the healthcare industry. The tables consisted of data from the U.S. Bureau of Labor Statistics (BLS) outlining how many people participated in each sector of the healthcare industry and the projected growth over the next 10 years.
The roundtable attendees began their group discussion about the status of vaccinations in their respective states and organizations. While most staff are vaccinated, there's still a significant percentage who are not. With the rise of the Delta variant nationwide, leadership at linen, uniform and facility services operations has continued to encourage vaccinations and masking. A brief discussion about mandating the COVID-19 vaccine took place, but none of the participants on the roundtable expected to implement a policy until the fall, if then.
The roundtable also discussed how to shift the healthcare industry from the use of disposable goods to reusable items. Those who participated in the conversation agreed the impact of the pandemic has given the linen, uniform and facility services industry an opportunity to educate healthcare providers on clean laundry and shift from the use of disposable goods to reusable goods. Additionally, as outpatient healthcare providers inherit elective surgeries and procedures from hospitals, now is the perfect time to promote reusable linens.
Labor shortages and supply-chain issues were the final topics of conversation at the roundtable. Attendees agreed the labor-shortage issue would slowly improve with time, but until the government relaxes COVID-relief programs and policies, the consensus was that there would be no significant improvement. Company leadership is having difficulty hiring workers and retaining them despite higher wages and signing incentives.
Additionally, difficulties within the supply chain has resulted in companies doubling their inventory of raw materials to prepare for any drastic shortages to come. Attendees of the roundtable have experienced delays receiving their ordered goods, thus making customers impatient.
TRSA will continue to hold market-sector specific roundtable discussions throughout the remainder of the year. Visit www.trsa.org/calendar to view upcoming roundtable events and more.