'High Standards': Industry Legends Emphasize TRSA's Unique Role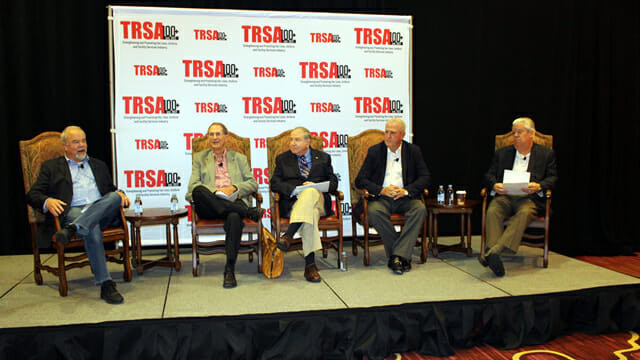 TRSA closed the final day of its 105th Annual Conference & Exchange with a Legends of the Industry Panel featuring five high-level executives for influential operator and industry supplier companies. Held at The Meritage Resort & Spa in Napa, CA, the wide-ranging discussion touched on changes in the industry, business challenges, as well as the association's role among member companies and industry executives.
The Legends Panel included:
Bruce Boynton, former senior vice president of operations, UniFirst Corp.
Alan Bubes, former president & CEO, Linens of the Week
Bill Evans, former CEO, AmeriPride Services Inc.
Tom Storm, co-founder, Washing Systems (WSI)
Donald Struminger, chairman of the board and CEO, Mohenis Services Inc.
After each of the panelists introduced themselves and gave an overview of their background in the linen, uniform and facility services industry, each of them took questions from the moderator, TRSA President & CEO Joseph Ricci, as well as audience members. Members of the panel also posed questions to each other.
Topics included:
What is the biggest difference between the industry when you first started and now?
What did you do to distinguish yourself from your competitors and stay in business?
What is the difference between working for a publicly held company, versus a privately held and/or regional business?
What is the importance of the culture of your organization?
If you were starting all over today, what would you do differently, and why?
In closing, Evans shared his thoughts on TRSA and its impact on getting his start in the industry. "Being an outsider, and being brought into this at a level that I was able to connect with fellow board members, as well as associate members, was incredibly helpful for me," Evans said. "It helped set the tone and give me some legitimacy back home at AmeriPride. It allowed me to say, 'Hey, I'm part of the industry.' For me, it was very beneficial from that standpoint. As Joe (Ricci) knows, we heavied up on it. We got very engaged with TRSA and a lot of the committees. I felt great about it."
Bubes shared his thoughts on the linen, uniform and facility services industry, and the high bar its companies and executives set. "I have a lot of friends and know a lot of people in business, and still love to talk to them about things," Bubes said. "I don't hear anyone talk about their trade association the way everyone here feels about this trade association. I have never seen relationships of everybody from the large companies who are always so helpful to everybody. It's an amazing group of people of high standards, high ethics, and of small, medium, large and public companies, who all work together.
"The closeness with the suppliers, who really support the industry. I think we're all fortunate to have an association like this. I can't imagine and I've never heard of any other industry this close-knit, where everybody knows everybody."
For more coverage of TRSA's 105th Annual Conference & Exchange, click the following links:
Annual Conference: Awards, Education and Networking in Napa
Steve Larson: Reflections of a 'Go-To Guy'
Straight from the 'Hart' – Why Mountville Has Grown
Exec Exchange – Operators, Suppliers Seeking Solutions
TRSA Elects New Chair, Board Members at Annual Meeting
Thanks to TRSA's Annual Conference Event Partners JENSEN USA and M&B Hangers, as well as the following sponsors: Brim, Ecolab, Ellis, G.A. Braun, Kannegiesser ETECH, Lavatec, Pellerin Milnor, Standard Textile and Tingue. The next TRSA Annual Conference is scheduled for Sept. 17-19, 2019, at the Hyatt Regency Boston Harbor.