Hill Day: TRSA Members Educate Legislators on Industry Issues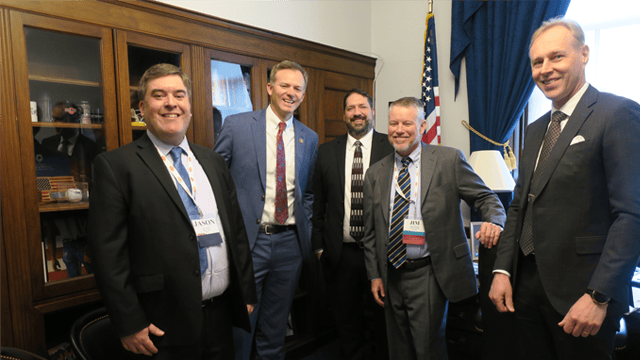 TRSA concluded its 13th Annual Legislative Conference in Washington, DC, on March 23 with its annual Hill Day, which included a total of 93 face-to-face meetings with federal legislators and key staff members.
At these meetings, TRSA operator and supplier partner member executives advanced the association's advocacy agenda by highlighting two key issues of importance to linen, uniform and facility services businesses:
Enable healthcare staff to be properly protected at work by compelling their employers to balance their use of reusable healthcare textile personal protective equipment (PPE) with disposable equivalents.
Maximize infection prevention by requiring healthcare uniform wearers to change at work and linen, uniform and facility services businesses to process their garments.
TRSA members attended these meetings in small groups of roughly three or four each. Each group had a packet that included background information on the aforementioned issues to leave with the various legislators' offices at the conclusion of each meeting. The packet included a letter for members of Congress to co-sign to encourage the Department of Health and Human Services (DHHS) Secretary Xavier Bacerra to examine how DHHS can ensure that healthcare facilities maintain a greater balance of reusable PPE to better protect healthcare staff members and the environment from the harmful impacts of disposables. The goal is to help healthcare providers prepare for the possibility of future pandemics.
"The meetings on the Hill were engaging, well organized and productive in my opinion," said Jim Kearns, executive vice president/CFO, Alsco Uniforms, Salt Lake City, and chair of TRSA's Board. "I expect that at least one representative or senator that we met with will sign on to the letter requesting that the Department of Health and Human Services examine increasing reusable healthcare textiles in hospitals and other healthcare facilities."
Kevin Schwalb, TRSA's vice president of government relations, briefed the members in a conference room at the nearby Capitol Hill Club before they departed for their meetings on Capitol Hill. Additionally, attendees were well versed on current political issues after attending the previous day's keynote speech from Bob Cusack, editor in chief of The Hill, and the Hill Day Issue Briefing featuring a pair of policy directors from Brownstein Hyatt Faber Schreck LLP, Brian Wild and Drew Littman.
While the Hill visits took place, TRSA hosted an outing for spouses and significant others that made the trip to Washington, DC – a visit to the Hillwood Estate, Museum and Gardens. The museum is the former home of businesswoman and philanthropist, Marjorie Merriweather Post (1887-1973). Post was the one-time owner of General Foods Corp. Outside of work, she collected rare works of jewelry and art, including an extensive collection of paintings and other items from pre-revolutionary Russia. The museum visit featured a private tour and tea service at the local landmark.
If you have any questions about TRSA's recent Hill Day or industry advocacy issues, contact Schwalb at kschwalb@trsa.org.