Hill Speakers – Seeking Common Ground Amid Conflict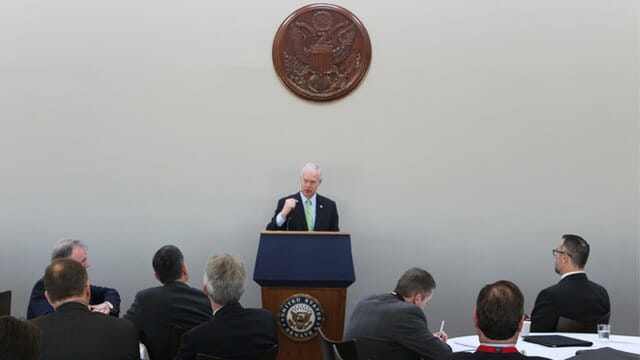 A group of 50-plus TRSA members got an insider's view of Washington politics and policy during three speaking engagements with Capitol Hill lawmakers that were part of the association's 9th Annual Legislative Conference on March 28 in Washington, DC.
The morning meeting with members of Congress included Sen. Ron Johnson (R-WI), chair of the Homeland Security Committee and Todd Young (R-IN), a 10-year Marine veteran and U.S. Naval Academy graduate elected to the Senate in 2016. The two senators spoke on Capitol Hill before the TRSA members set off for congressional offices to discuss issues, including the need for infrastructure improvements and approval of the Department of Labor's proposed changes in overtime eligibility.
A third speaker, U.S. Rep. Ben Ray Luján (D-NM), addressed the TRSA attendees at a luncheon meeting after their Hill visits. As chair of the Democratic Congressional Campaign Committee (DCCC), Rep. Luján helped engineer last year's Democratic takeover of majority status in the U.S. House of Representatives. He's currently fourth in line in the House Leadership with the title of assistant speaker of the House. It's widely reported that Rep. Luján is expected to make a run for an open Senate seat in New Mexico next year.
In his address, Rep. Luján cited the need to improve America's highway system. While many in the news media have criticized the lack of bipartisanship in Congress, Rep. Luján believes legislation on infrastructure improvements has a decent shot at enactment in the 116th Congress. "We have to find that common ground and how we can work together," Rep. Luján said, speaking of both intra-party squabbles as well as the need for bipartisan efforts to fix the nation's roads and bridges. "Don't let the media confuse you that it's bickering all the time around the clock."
He noted that Rep. Peter DeFazio (D-OR) the chair of the House Transportation and Infrastructure Committee has collegial relations with Republicans on the committee. Rep. Luján is hopeful that Congress can make real progress in this area because of the committee's collaborative efforts. "Rep. Peter DeFazio worked with former Chair (Bill) Shuster. Bill had a reputation for trying to bring people together to find solutions, as does Peter DeFazio. Peter worked with Bill to try to put together some framework that we thought that we could get through in a bipartisan way in the last Congress. So we're benefitting from all of that work now."
However, a conflict over the funding split between states and the federal government to pay for the infrastructure improvements poses a challenge to lawmakers, Rep. Luján said. The White House is seeking an 80-20 split with states picking up the larger share of the costs for improvements. He said New Mexico likely couldn't afford to participate in a program on that scale. Instead, Rep. Luján would like to flip the numbers, with the federal government paying 80% of the costs.
Sen. Young touted a likely infrastructure deal as well, noting that it's a positive development that doesn't draw much media attention since its less controversial. "Looking forward, I think there's some natural opportunities for us to work together in a bipartisan way," Sen. Young said. "One is infrastructure. It's critical to our way of life. We've got to figure out the most responsible way to pay for it. There's some principled disagreements on that front and some different proposals have been put forward, which is good." Sen. Young predicted that Congress has perhaps six months of "runway" room left to complete a deal on highway improvements before the 2020 election campaigns begin to crowd out opportunities for legislative action.
While tax reform passed mainly on a party-line vote in late 2017, Sen. Young touted that legislation as a key accomplishment that's helped fuel today's economic growth nationwide, including a record-low unemployment rate. "During my six years in the House we did not accomplish a whole lot that I wanted to talk about, but we got tax reform done," Sen. Young said. "I'm proud of that. I believe that in part is responsible for the unemployment rate, which is the lowest it's been in 45 years, across all income groups, across demographics, across geographic areas, people are experiencing incredible rates of employment."
Sen. Johnson added that another factor in that growth is the efforts that the administration of President Donald Trump has made to ease off on new regulations. "We've stopped adding to the regulatory burden," he said. "Are you really burdened right now by new regulations? Just that four-year pause has allowed business to concentrate on producing better products at better costs. Better processes in their manufacturing. So that is the most significant thing that has caused the economic prosperity."
Sen. Johnson lamented the lack of bipartisanship in Congress on regulations and other key areas, including entitlement spending and the need for immigration reform.
In response to a question on gun control, he said he's a defender of Second Amendment rights, but feels Congress should close ranks behind efforts to enhance public safety. "I'm looking for what is actually going to be effective," Sen. Johnson said, noting that an Indiana school added $900,000 worth of security measures in order to protect students. Unfortunately, he's not optimistic that Congress will accomplish much in this area, due to fervent disagreements between Republicans and Democrats. "Like abortion or immigration, the sides are so divided on this," he said. "Both sides kind of like the issue and are not interested in a solution, which drives me nuts!"