Hispanic Healthcare Execs Recognize Unitex
Unitex recently was honored as "Corporation of the Year" by the Association of Hispanic Healthcare Executives (AHHE).
"We are honored to receive the Corporation of the Year award from AHHE," said David Potack, the president of Unitex, who also serves as chairman of TRSA. "We are proud that the Hispanic community recognizes the work and support we give to our team. We look forward to working with the AHHE in the future and supporting their efforts in years to come."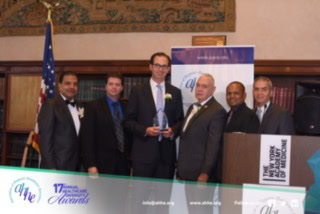 Founded in 1988, the AHHE is a professional group dedicated to helping people of Hispanic/Latino descent advance into management posts and C-suite jobs in the healthcare and hospital sectors, according to a news release.
Unitex received its recognition on June 22 during the AHHE's 17th Annual Healthcare Diversity Awards ceremony at the New York Academy of Medicine in Manhattan. The theme of this year's event was "Mentoring Healthcare Leadership Talent."
Unitex, a regional healthcare laundry operator based in Elmsford, NY, was chosen as the recipient of this award because of the job opportunities it provides to Hispanic employees at all levels of the organization and for the support the company provides to Hispanic communities across the Northeast.