Home-Wash Hazards – German Researcher Documents Risks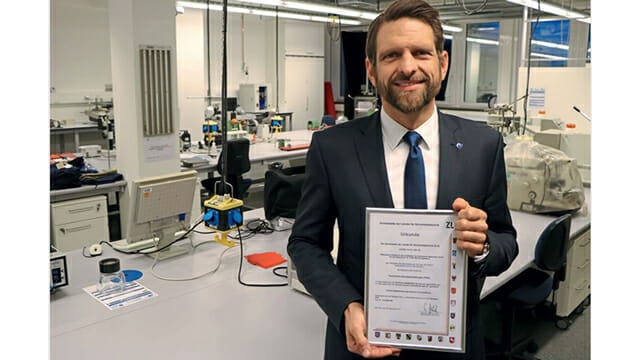 New research from a German university microbiologist offers scientific confirmation of what most commercial laundry operators already know – that washing scrubs or other workwear textiles at home, rather than at a commercial/industrial establishment – poses a risk of spreading infections. The problem is that domestic washers don't provide enough heat or concentrated chemistry to produce hygienically clean textiles.
"Domestic washing machines offer a pre-programmed choice of washing programs, often based on temperature and time," said Professor Lutz Vossebein in a research paper titled Textile Hygiene – Home washing vs. professional industrial washing – Risks of washing at home. "Energy-saving measures in modern washing machines mean that the required 60° C (140° F) are often not reached, nor maintained sufficiently long enough."
Vossebein is a researcher with the Niederrhein University of Applied Sciences, Mönchengladbach, Germany. He serves as dean of the Public Testing Center for Textile Technology, Testing and Quality Management. Vossebein's study was backed by the European Textile Services Association (ETSA). A copy of his research on home washing appeared in the group's October newsletter. TRSA has an information-sharing agreement with ETSA.
Vossebien's research includes two charts that track temperatures in domestic washing machines. This data confirms that temperatures don't reach the required 60° C (140° F). "In practice, domestic washing machines offer a variety of temperature and time profiles," he noted, adding that, "There is also a wide degree of variation in terms of detergents and drying procedures."
These factors are critical because research shows that a variety of dangerous microorganisms, including Bacillus cereus and Clostridium difficile spores, plus food-borne Salmonella, Listeria and "super bugs," such as Staphylococcus aureus, MRSA, E. Coli Pseudomonas, can survive domestic washing procedures. They also can cross-contaminate other textiles in the wash.
In healthcare settings, the antibiotic-resistant microorganisms, such as MRSA, often are the source of hospital-based infections. These incidents can threaten the lives of patients and often result in huge treatment costs that are typically borne by healthcare providers.
Click here to review the full report by Professor Vossebein.