Hospitality Laundry Operators Weigh Survival Strategies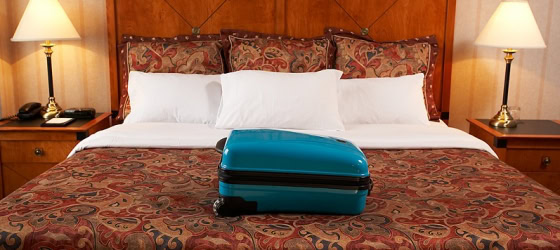 In the first of a series of teleconferences sponsored by TRSA for various sectors of the linen, uniform and facility services industry, hospitality operators on March 24 exchanged ideas for restarting their businesses in the wake of a massive nationwide shutdown of most hotels due to the COVID-19 crisis that emerged earlier this month.
Harry Kertenian, chair of TRSA's Hospitality Committee and owner/CFO of Magic Laundry Services, described the impact of COVID-19 as a hammer-like blow that struck suddenly with little warning, as opposed to the 2008-'09 Great Recession that gradually dragged business down over several weeks.
Kertenian is based in greater Los Angeles; while a second panelist, Keith Pooler, vice president of Sacramento Laundry, serves Northern California, including hotels in the San Francisco Bay Area and in and around the Golden State's capital city. Both said their plants are largely idle with small crews of key management personnel staying since business has dried up due to hotel closures. Despite the gloom, both Pooler and Kertenian struck a positive tone, noting that they expect the hotel business to bounce back later this year. Kertenian said now was a time to work with his staff to fine-tune operations, take a deep breath and think about how they can work their way out of the dilemma posed by COVID-19.
The immediate concerns cited by the operators, and a third panelist, Steve Miller, vice president and general manager of Victor Kramer Co., were financial – that is how can they keep the lights on while they figure out a strategy for resuming business activity at a future date? Kertenian noted that Congress is finalizing a relief package that could include as much as $250 billion for hotels. Other financial-aid options that laundries could consider to get them through the COVID-19 crisis include:
Loans: Cash to restart laundry operations may be available through the U.S. Small Business Administration (SBA), a federal agency charged with assisting small and midsized businesses.
Payment Deferrals: Pooler said he'd approached several of his creditors with successful requests to defer payments for 90-180 days, while healthcare and government officials sort out the COVID-19 situation.
Insurance Claims: It's not clear if COVID-19 would qualify under "disaster" or "business interruption" claims, but Kertenian recommended that operators file claims for both in the hope that one or the other will end up delivering a cash claim.
Kertenian suggested that operators approach a financial adviser, accountant or CPA to help them pursue various avenues of seeking funding to get through this down period in the hospitality market.
While bottom-line cash-flow emphasis is critical, the panelists and various callers pointed out that it's equally important to do everything they can to help employees – many of whom have experienced layoffs. A caller – one of more than 120 who joined the call – pointed out that it's important to "show humanity" to employees by taking them meals and offering other expressions of solidarity. Kertenian said many of his staff were confused by the sudden turn in the economy. Magic Laundry prepared a list for them of area services where they could get help with bill paying and other humanitarian assistance. Besides, keeping employees in close contact can facilitate calling them back to work should the hotel trade regain its momentum in the coming months.
For now, other business options that hotel laundries can pursue include:
Converting a portion of their operations to service healthcare clients with overflow work from healthcare laundries or hospital on-premise laundries (OPLs) that are dealing with a large number of COVID-19-related cases. Kertenian noted that to deal with healthcare will require the use of universal precautions for handling soiled linen, negative air flow from clean to soil and more extensive personal protective equipment (PPE) than hospitality laundries may have used in the past. Still, it's one way to keep the business going until the hotel trade picks up again. Miller added that, given the risks of COVID-19, it makes sense for hospitality laundries to treat any soiled item that comes into the laundry as having infectious materials.
While healthcare providers have seen a temporary falloff of about 30% – mostly due to deferred surgeries – other services are growing and are likely to expand. He added that demand for scrubs and reusable cubicle curtains are "through the roof." It's unlikely that the COVID-19 situation will spur a large movement by healthcare providers to disposable products simply because the supplies of those goods are largely exhausted.
Finally, if there is a silver lining in the COVID-19 crisis, it may be the opportunity this presents to hotel laundries to encourage hotel prospects to close their OPLs, since most hotels won't have the cash to maintain OPLs once business starts to pick again. Another opportunity to could be to convert hotels from customer-owned goods to rental textiles provided by the laundry. The latter could save the hotels money, while creating a fresh business opportunity for hotel laundries. By calmly thinking through and acting on these and other strategic plans related to the COVID-19 crisis, hotel laundries eventually may see a full recovery and renewed growth. Looking ahead, TRSA will be following up on the teleconferences with the formation of sector-specific task groups that will consider steps for recovering from the COVID-19 crisis. Contact TRSA's Ken Koepper at kkoepper@trsa.org for details. Click here for information on additional teleconferences for food-and-beverage, healthcare and industrial launderers.